Why Lucite Deal Toys Should Remind You of Draft Beer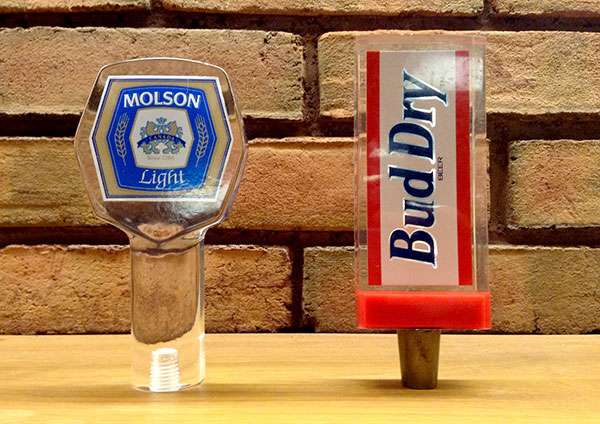 No, this isn't headed toward one of those "Which guy would you rather be?" formulations ("the one who used The Corporate Presence, surrounded at the bar by exuberant members of his deal team, or that other guy, the one who used that 'other' deal toy company for his Lucite deal toys, the one now at the end of the bar, forlornly watching the bubbles in his beer, wondering how…") etc. etc.
No, I just want you to think for a moment of draft beer—specifically of draft beer taps. If we were actually in a bar and I said this, you'd undoubtedly right now be starting to inch away—but bear with me for a second.
One of the earliest and most visible uses of Lucite (however actually overlooked) is in beer taps. Beer taps, in fact, highlight all of the salient benefits of Lucite deal toys. Think of the logo in a beer tap. First of all, it's usually suspended, and protected, in clear Lucite. Secondly, the logo, despite the near-constant handling of the tap by the bartender, is still prominent—and its colors are intact. In fact, the logo—despite all the years of abuse—is usually pretty much unscathed. Thirdly, the shape of the tap itself can be manipulated to further increase its visibility.
All of which gets back to my point: beer companies saw in Lucite a durable means of getting (and keeping) their brand in front of customers. Your Lucite deal toy is essentially the same thing: it's something durable and enduring (unlike, say, a T-shirt) that your client will display—and in a way that constantly highlights your brand. Lucite deal toys, essentially serve as desktop advertising—advertising, in this case, your team, your bank, and, let's face it, you.
David Parry is the Director of Digital Strategy at The Corporate Presence, where he has worked in sales and marketing for almost 20 years. A graduate of Brown University, he also directs Scholarly Awards, a subsidiary of The Corporate Presence specializing in custom Lucite awards for colleges and universities. He is an admirer of beer taps, but draws the line at Lucite furniture.