Frequently Asked Questions (FAQ)

Do I have to come up with my own deal toy ideas?
Absolutely not—-though any kind of initial ideas or input from you or your deal team are always welcome (even it it's in the form of what you don't want).
Your account executive will be able to guide you to appropriate design options based on a number of factors, including your budget and timetable.
For some quick ideas, see Creative Deal Toy Ideas: 7 Frequently Overlooked Sources of Inspiration; Code Name-Inspired Deal Toys

How long does the deal toy process take?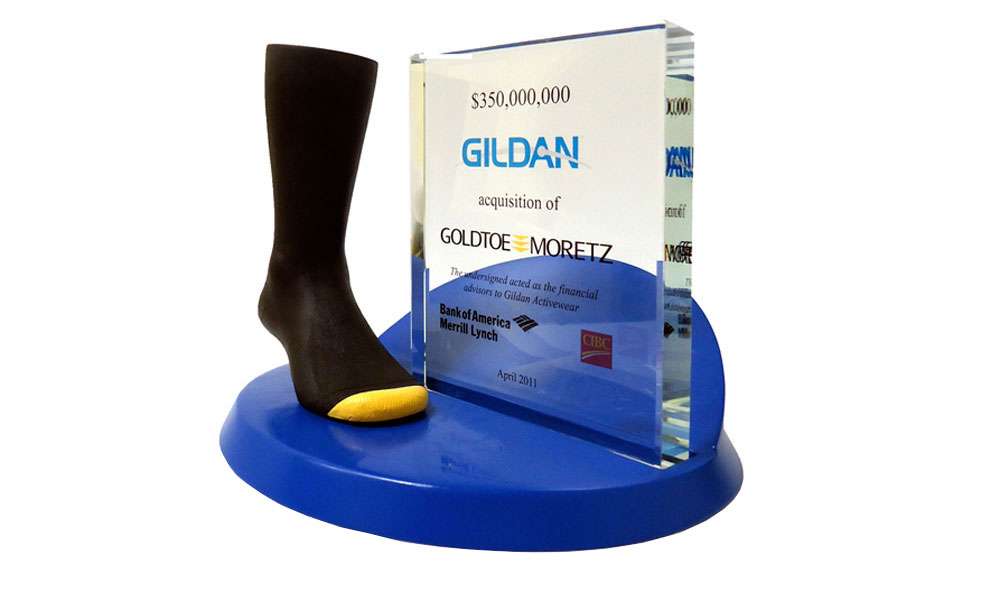 The only honest answer here is that it depends. We pride ourselves on providing the industry's most responsive custom service and fastest production times. But a lot will still depend on your choice of materials, your design preference, your expected quantity---among other factors. Your account representative can give you the most accurate information based on the specifics of your order.
For some tips on the ordering process see "7 Simple Ways to Streamline the Deal Toy Process"
Keep in mind, though, that certain materials may require more time than Lucite—such as resin, stone composite, or crystal.

How do I know which material (crystal, Lucite, resin etc.) would be the right choice for my deal toys?
This will depend on your exact circumstances: your initial design preferences (if any) and, most of all, your deadline and budget.
Since many of our clients ultimately choose either crystal of Lucite designs, you may want to look into those materials first.
You might want to check out Lucite vs. Crystal: Which Should You Choose?

I've looked through your site and haven't seen the design I had in mind. Does that mean you can't do it?
Not at all.

First off, make sure you've done a comprehensive search of our site. Use our easy search function below. It's pretty intuitive, so you just enter common terms like "solar", "ipo", "construction" etc.
If you still see nothing that resembles what you want, keep in mind that most of our deal toy designs are customized. For that reason, we don't just provide you with preset menu of off-the-shelf, preselected shapes and designs.
So the designs we do show on the site are only meant to be illustrative; you might, for instance, see elements of one piece that you want to combine with one or more elements of another. We can guide you to design that works. You can
get that creative process started now.

What can I expect to pay for deal toys?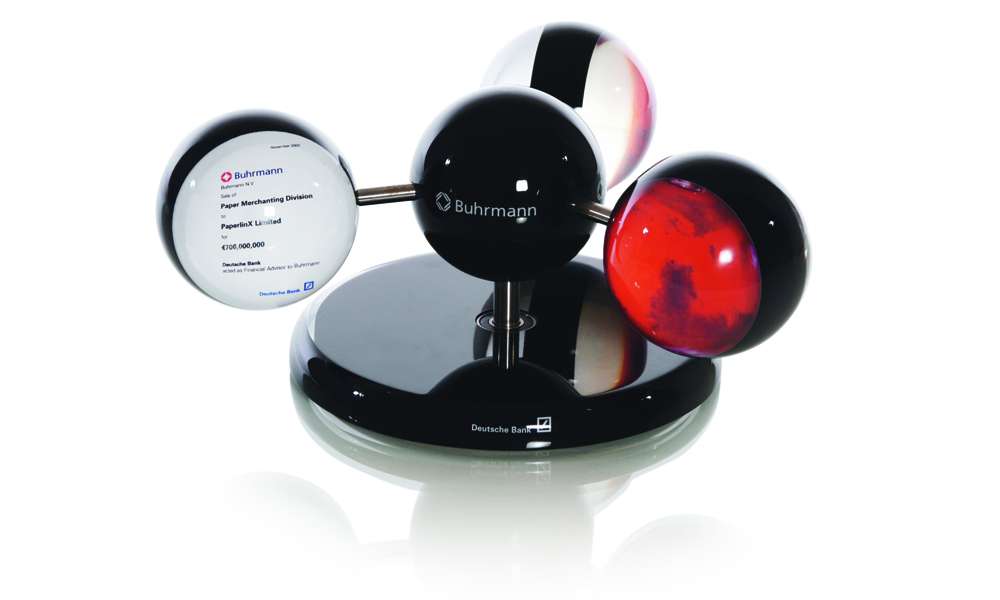 Here again, the only truthful answer here is: it depends.
Price will often be a function of the size and complexity of a design---whatever material is involved. But there are other factors that can ultimately affect price.
Again, one of the first issues we want to discuss with you is your budget. We don't want to waste your time with designs that won't be appropriate (and this is an area where our 40 years of experience, manufacturing leverage, and design insight can be invaluable in making the broadest possible range of options available to you).
For more information, see How Much Will My Deal Toys Cost?

What information will you need in order to get my deal toy order started?
There are a couple of initial questions you should expect:
Do you have a closing dinner or other deadline? (Your timeline may have an immediate bearing on the designs we suggest).
Do you have a specific budget? (Again, we don't want to waste your time with unrealistic designs; to the extent that you have a set budget, it's extremely helpful to know this from the outset).
How many deal toys do you expect to need? (You don't need to be exact here; even an approximate number will help us steer you toward appropriate designs, provide more accurate pricing information, and think through any potential logistical issues).
What can you tell us about your deal and/or client? (We'll obviously need the text of the transaction; we will also need any relevant logos, preferably in vector format; though there's also a good chance that we may already have some of the necessary logos from previous deals).
Check out our glossary for a quick explanation of vector art and why it's important.

Do you provide rush service for deal toys?
Yes. Your account executive can provide you with options—including designs and materials—for meeting your deadline.
For more information on rush orders, see "Ordering Rush Deal Toys: 5 Very Quick Survival Tips".

I'm thinking of placing something inside my deal toy. What kinds of things can, and can't, be put inside a deal toy?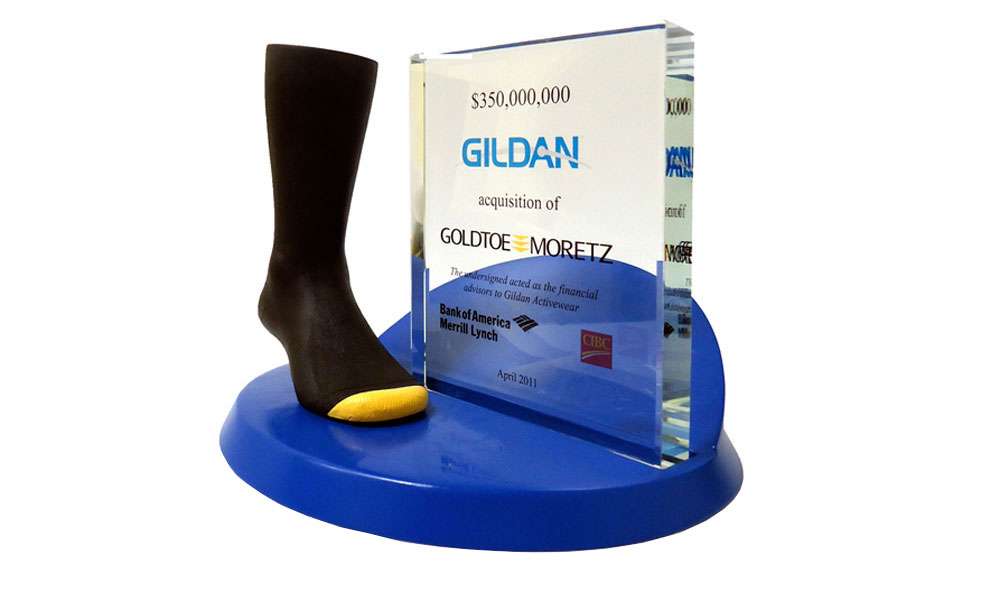 Not everything---though over the years we've successfully embedded in Lucite objects ranging from tortilla chips to cigars
Still, you should know that the Lucite production process involves sustained baking at extremely high temperatures, and there are certain materials that most likely will not hold up to the intense heat.
Most plastics, for example, will incinerate, as will rubber.
Your account executive can address whether certain materials will be safe to embed, and how they might be tested.
For more information, check out "A Quick Guide to Lucite Embedments"; "Zippers, Shrapnel, Manure…The Weird Things We've Had to Embed".
Your account executive can address whether certain materials will be safe to embed, and how they might be tested.

Any tips on handling closing dinners?