Featured Deal Toy: Germany's Largest Residential Real Estate Company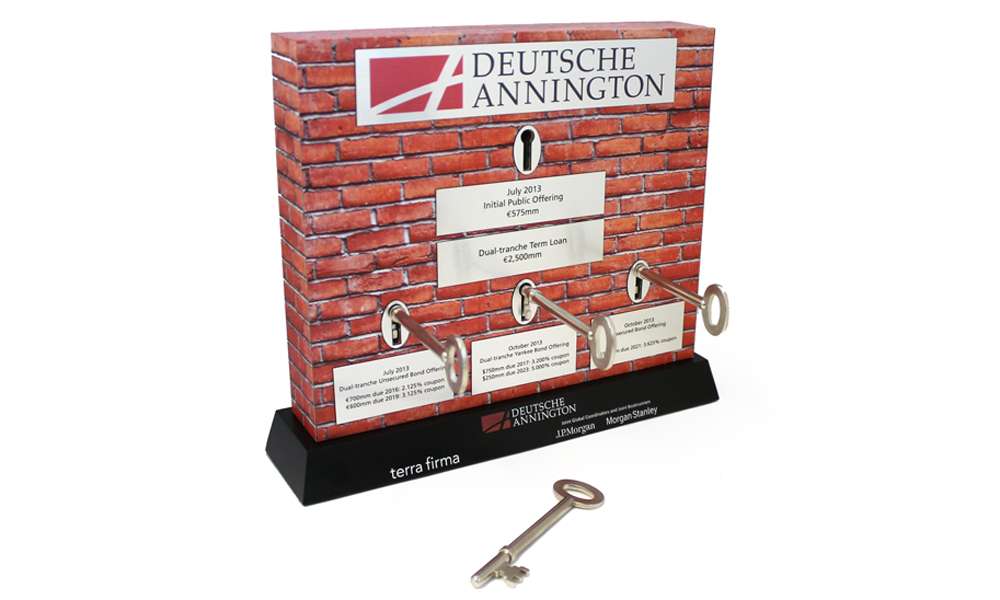 In her determination to accommodate her client's design wishes, Jane Whitaker had hit a brick wall—literally.
The banker had reached out to The Corporate Presence's London office for a deal toy design for a landmark European real estate transaction. Terra Firma, a U.K.-based private equity firm, had in July, 2013 listed its portfolio company Deutsche Annington on the Frankfurt Stock Exchange, an issue worth approximately €500 million.
Deutsche Annington is Germany's biggest residential real estate firm, with over 190,000 units across the country.
The client wanted a deal toy commemorating both the IPO, as well as subsequent October offerings (including a U.S. 1 billion dual-tranche bond, the largest-ever U.S. bond issue by a European property company. J.P. Morgan and Morgan Stanley served as joint global coordinators and joint bookrunners for the transactions).
A Deal Toy Befitting a Landmark Deal
There was little time before the deal's scheduled closing dinner, but the client understandably wanted a design reflecting the scale and significance of the transactions. The client's immediate preference was to incorporate a brick wall in the deal toy design—a real brick wall.
Jane recognized that using real brick would pose some practical as well as aesthetic issues—especially after the client suggested that the design incorporate keys to convey the properties' residential character. Any design that involved drilling secure keyholes in actual brick would simply have been unachievable—especially given the time constraints.
Making use of high-resolution images of brick, and alternate materials, Jane's deal toy design was able to achieve the effect the client was after."Knowing the capabilities of different materials—knowing what will really work best in a given design and situation— is a huge part of our job, and of what differentiates us with clients", she explains.
"For the door keys, we were trying for a slightly old-fashioned look, rather than simply some modern, generic door lock. We ended up using fire brigade keys, and having to source almost 300 of them! But we definitely got the look the client wanted—and all in time for their closing dinner".