Real Estate Deal Toys: Why They're a Lot More Than "Closing Gifts"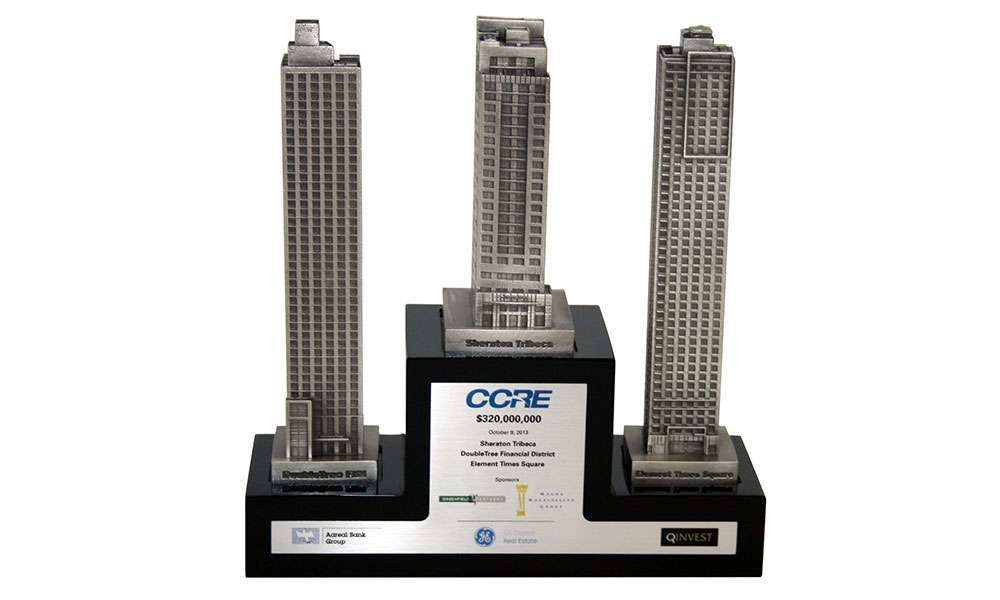 Savvy commercial real estate firms are recognizing what investment banks have long known: the branding and marketing potential of "deal toys"
"Lining a windowsill in Anthony Orso's office at Cantor Commercial Real Estate are dozens of statuettes—deal toys, he calls them—one for each of the $8 million to $580 million loans the commercial lender has done to date".
So begins a profile in "The Real Deal" of Cantor Commercial Real Estate (CCRE) Co-CEO Anthony Orso. "One wouldn't think the head of a successful firm would need to be surrounded by trinkets", the article continues, "but these are reminders of hard- won victories". In defense of his "trinkets", Orso notes, "We do this to celebrate our small victories". Beyond that, he emphasizes their entirely separate value as a branding tool—one that is especially significant in the legendarily competitive world of commercial real estate.
Custom Real Estate Deal Toys Resonate with Clients
Orso's comments underscore a growing realization within commercial real estate that transactions, ranging from landmark deals to smaller, less trumpeted ones need to be commemorated—-and not merely to fulfill the traditional obligation of "closing gifts".
Yes, clients undoubtedly value custom gifts: and, as well, clients tend to keep them much longer than the inevitably lost luxe pen, or some cookie-cutter, off-the-shelf memento. But they have even greater value regarding not only clients but prospects.
Custom commemoratives—-real estate "deal toys"—have an independent value, which Anthony Orso's example convincingly demonstrates. The "trinkets" he lovingly keeps clustered on his office shelf are to him tangible reminders of achievement.
Beyond that, as any investment banker can tell you, they also have this kind of resonance with clients as well—precisely because they reflect the distinctive details, character, and challenges related to that specific deal. Clients hold on to them. They display them prominently in their office.
Clients see them—and not coincidentally your firm's name emblazoned on them—constantly…Equally important, everyone else coming into that office sees them as well, maybe even prospects you didn't know existed.
Cost-Effective, Enduring Desktop Advertising
With real estate deal toys this kind of resonance can be achieved in many designs—even if it just involves, say, a photo or photos of the property, as so many real estate commemoratives do.
Whatever their design, commercial real estate deal toys have value to a range of participants in a transaction. And unlike the traditional printed announcement of a deal, typically in a costly advertisement that is read, if at all, once and then discarded, their message is constant and enduring.
If you'd like to commemorate any kind of achievement, whether it's a loan syndication, acquisition financing, successful seller or buyer representation, or a long-term lease—to name just a few examples—we're always happy to provide custom design ideas.