7 Corporate Gifting Opportunities for Pharmaceutical Companies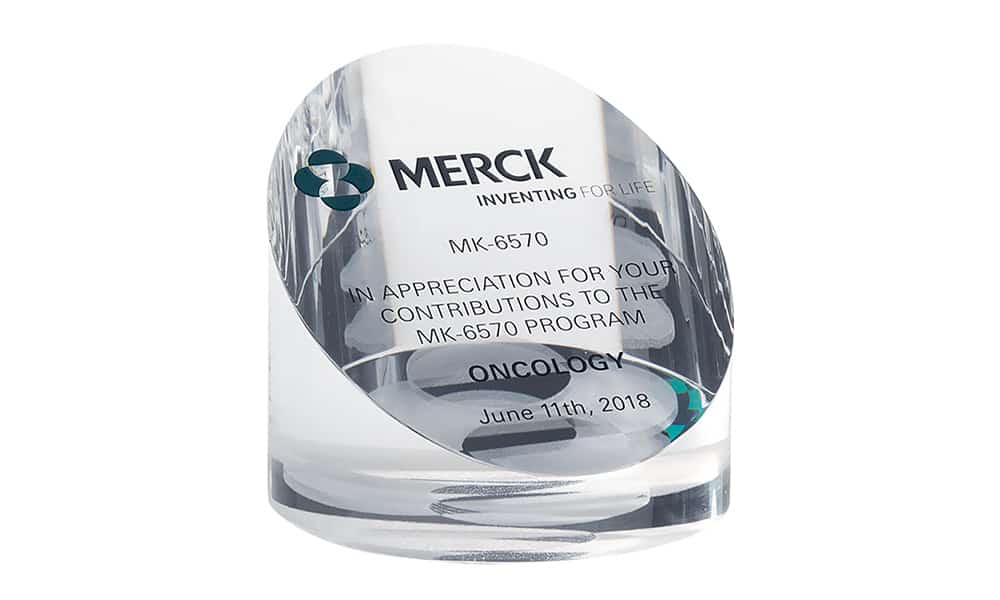 It's no wonder that there are abundant opportunities for corporate gifting for pharma companies. The very nature of the industry tends to lend itself to seemingly endless milestones and achievements that could potentially be commemorated. 
The global pandemic has only heightened our awareness of the unique characteristics of the pharmaceutical industry, ones that also contribute to a culture that must continually nurture and recognize extraordinary achievement. Those factors include the industry's extensive and time-sensitive product pipelines and portfolios, its disproportionate investments in research, its reliance on public-private collaborations, and, perhaps most of all, the constant presence of rigorous regulatory hurdles.
Corporate Gifting for Pharma Companies
This post provides more specific examples of the types of gifting opportunities that regularly prompt clients in the pharmaceutical and biopharmaceutical industries to reach out to us, and help them recognize and reward innovation and achievement.
1. FDA Approvals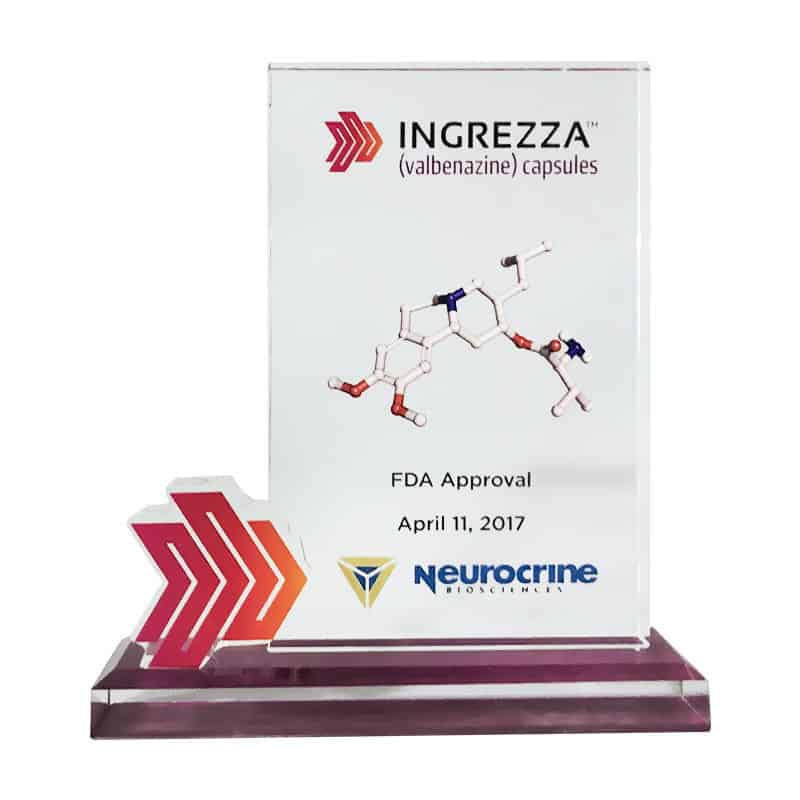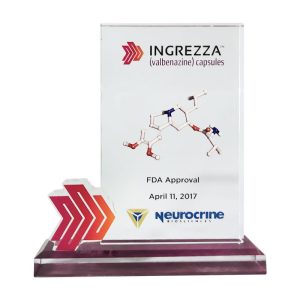 FDA approvals mark the culmination of a rigorous process, and, accordingly, are among the most common reasons for recognition gifts and awards among pharma companies. 
The crystal piece below, for example, marks FDA approval of a treatment for tardive dyskinesia, an involuntary neurological movement disorder.
2. Preclinical and Clinical Trials
Here again, there are several stages at which teams can be acknowledged. The crystal piece below, for instance, recognizes team members in a first-in-human clinical study of anti-tumor therapy.
There are a number of ways firms have chosen to celebrate these milestones. Drug vial embedments in Lucite, such as the one below commemorating a study involving a solid tumor therapy, are something for which we have developed a particular expertise.
These gifts tend to have considerable cachet among recipients and stakeholders because they are such a departure from the standard, generic fare so often seen in corporate gifting. They incorporate something truly unique: the actual vial of an actual drug.
Some firms, on the other hand, prefer to distribute more classic, traditional crystal designs.
(One additional note about drug vial embedments: the process may relatively straightforward, but it can actually involve a number of unanticipated challenges— including those related to something as seemingly basic as the proper rendering and positioning of the label on the vial prior to embedment).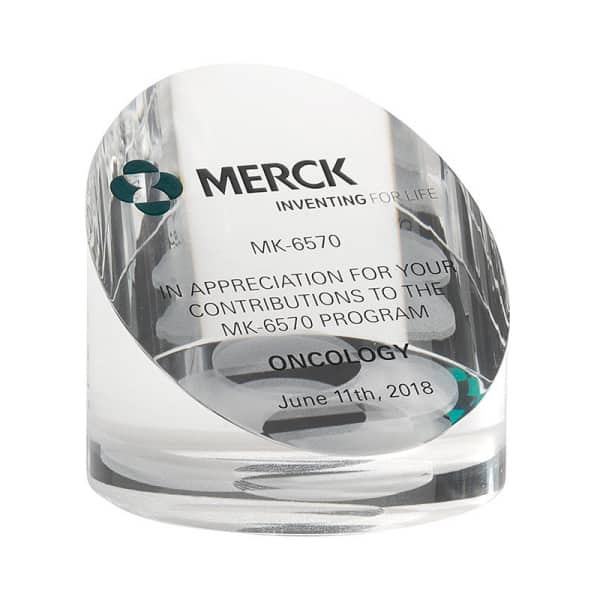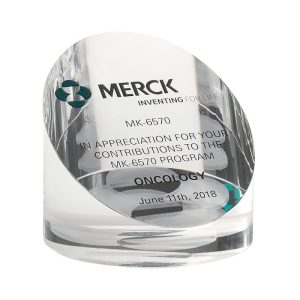 3. Research Collaborations
Research collaborations occur commonly between pharmaceutical firms, between private and public entities, and in conjunction with various academic institutions. Joint research projects of this sort provide an opportunity to recognize members of each participating team.
Among the many research partnerships, we have helped to commemorate have been a pharmaceutical-biotech collaboration focused on cancer metabolism, and another aimed at advances in stem cell research.
4. Joint Ventures
As with research collaborations, joint ventures can vary widely both in terms of subject matter and the parties involved. One joint venture we helped commemorate, for instance, involved teams from a pharmaceutical company and a technology company. The teams had united to develop a mobile app for use by patients with schizophrenia. 
5. Product Introductions
Gifts and recognition pieces can be used to commemorate a number of separate milestones, such as the submission of a New Drug Application (NDA) or the actual commercialization of the drug or product.
6. Licensing & Commercialization Agreements
Licensing, commercialization, and royalty agreements are obviously more squarely on the business side of the pharmaceutical industry, but just as obviously crucial to industry players. 
Licensing and commercialization agreements can be critical to all pharmaceutical industry players, but they can be especially indispensable to smaller biotech and biopharmaceutical firms attempting to bring more novel and financially speculative treatments to market.
Among the many agreements, we have provided gifts for recently was one involving global rights for gout treatment and another for a blood cancer drug.
Because of the cross-border nature of many of these agreements, these gifts, significantly, had to have appeal to recipients in different countries, representing different cultures and aesthetics.
7. Financings and Capital Raises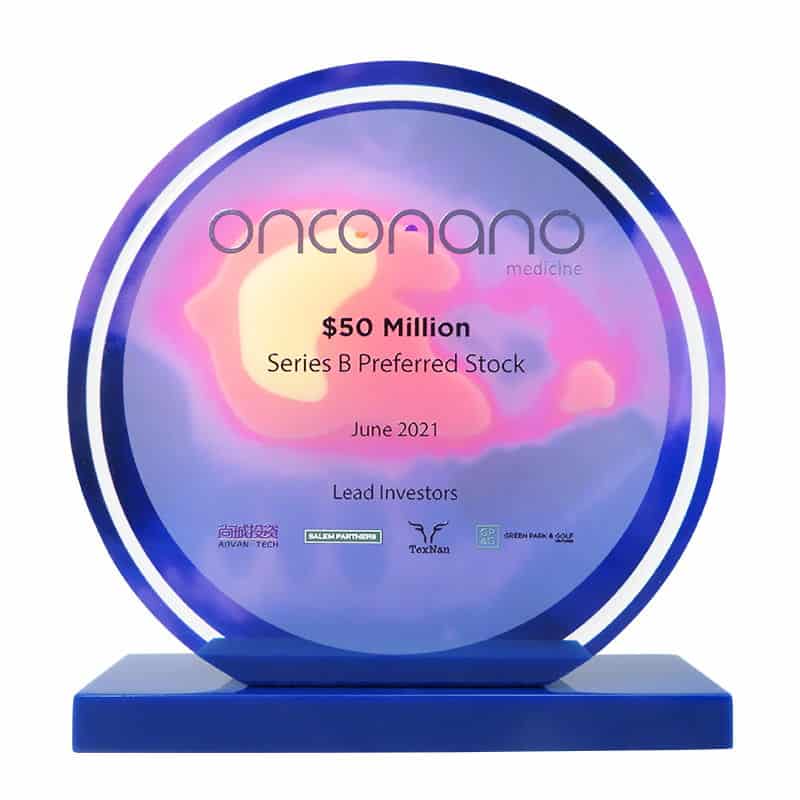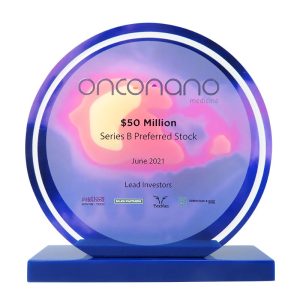 These opportunities tend to arise among the industry's smaller players, as in its biotech and biopharmaceutical segments.
One example is the gift shown here to mark Series B funding for Texas-based OncoNano. The funds were applied to clinical trials of the company's imaging agent in detecting cancerous tissue. (As you can see, the imaging effect became the centerpiece of the highly-customized gift designed to mark the occasion).
Corporate Gifting for Pharma Companies and The Corporate Presence
The Corporate Presence has been providing custom recognition awards and gifts to a number of industries, including pharmaceuticals, for over 40 years.
One of the advantages of beginning your search with us is that we not only offer you extensive experience and expertise in the industry. 
We also, importantly, can provide you the benefit of a huge archive of pharma-related custom awards and gifts via our website. Seeing the kinds of designs your peer companies and organizations have already done might provide inspiration for your project. Reach out to us and get your gift or award project started.