Creative Options for Currency-Themed Deal Toys: Exploring Symbols, Nicknames and More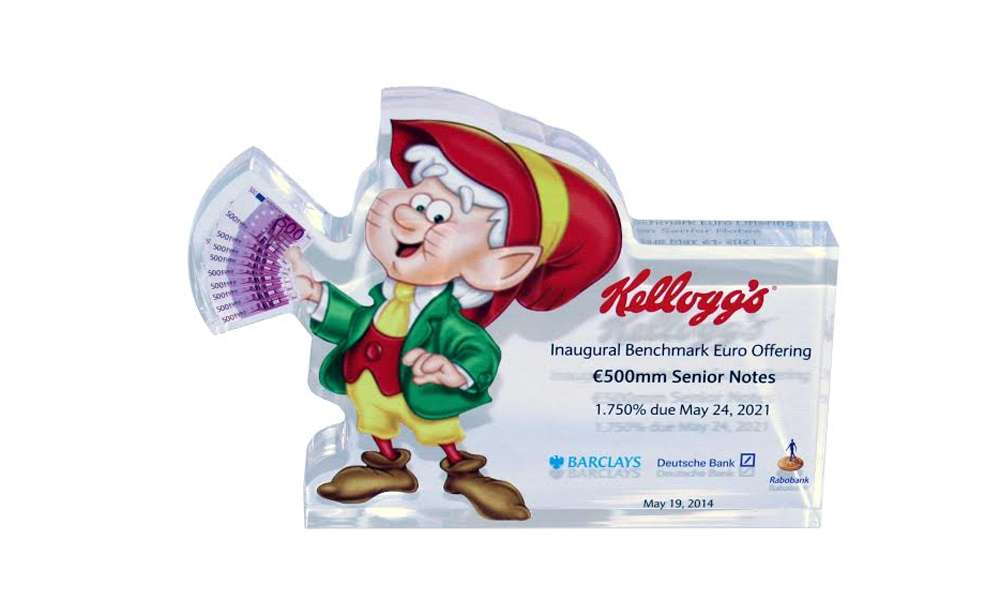 Currency-themed deal toys can play off a variety of creative options, including national symbols, maps, and flags. Currency nicknames have also been a rich source of ideas for commemorating currency-themed transactions.  Over the years, we've based creative deal toy designs, for instance, on such colorful issue names as "Samurai" bonds, "Rembrandt", and "Dragon" bonds.
And also, "Kimchi", "Bulldog", "Kangaroo", "Maple", and "Yankee" bonds.
But international bonds represent only some of the financial transactions in which currency and money-based themes offer great design options. Currency themes can come into play in any number of cross-border transactions, international corporate issues, "green" bonds, as well as swaps.
We've provided below five potential ideas and springboards for any deal toy project in which currency, or currencies, provide potential design inspirations.
Deal Toys Based on Currency Symbols
Including a dollar, yen, euro etc. symbol in a design doesn't seem especially imaginative or inspired. That said, there are still any number of innovative ways of incorporating symbols in designs.
The tombstone design shown below, for example, cleverly manages to celebrate three separate bond issues denominated in two different currencies.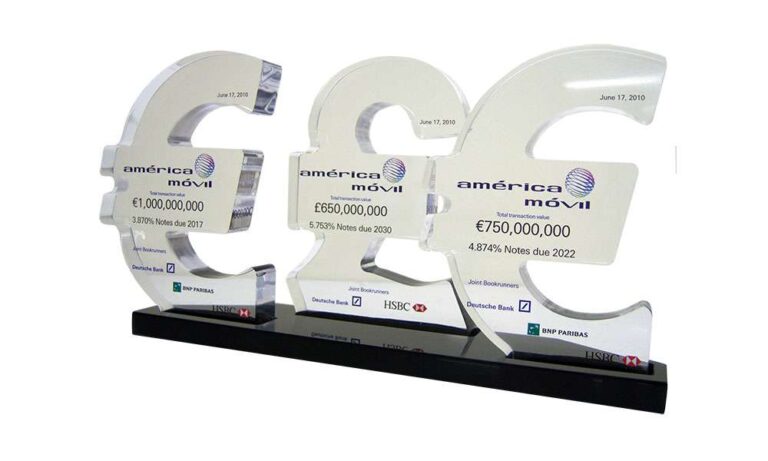 Flag-Inspired Tombstone Designs
Flags are yet another obvious source of design ideas for these transactions. That said, flag motifs can appear in any number of creative and unexpected ways.
For instance, the Jaguar XKB shown below, a quintessentially British car and brand, was customized with a Union Jack in two "Austin Powers" movies. It provides the perfect accompaniment to the pound issue commemorated here.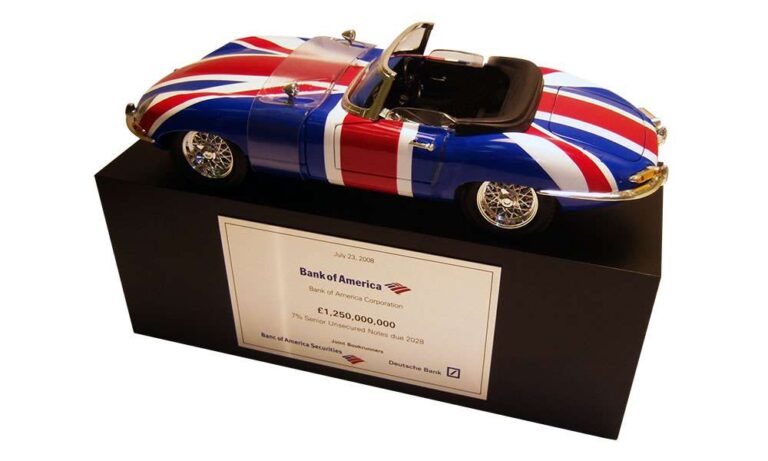 Deal Toys Inspired by Maps
As with flags, maps themes are a predictable source of design elements for recognizing currency-based transactions. Here again, there are countless ways they can be incorporated into a design.
Nickname-Inspired Deal Toys
The nicknames of individual currencies, either singly or when paired with another monetary unit, can unleash a number of creative possibilities. We listed a number of currency nicknames already. Add to that, to name just a few, Kiwi, Loonie, Ninja, Chief, and Gopher.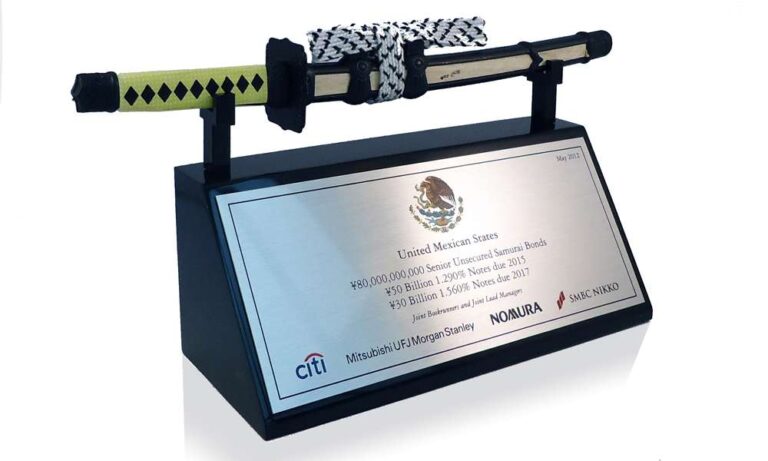 The sword-themed design shown above commemorates a Samurai Bond issue. The deal toy below, on the other hand, recognizes a so-called Din Sum Bond issue.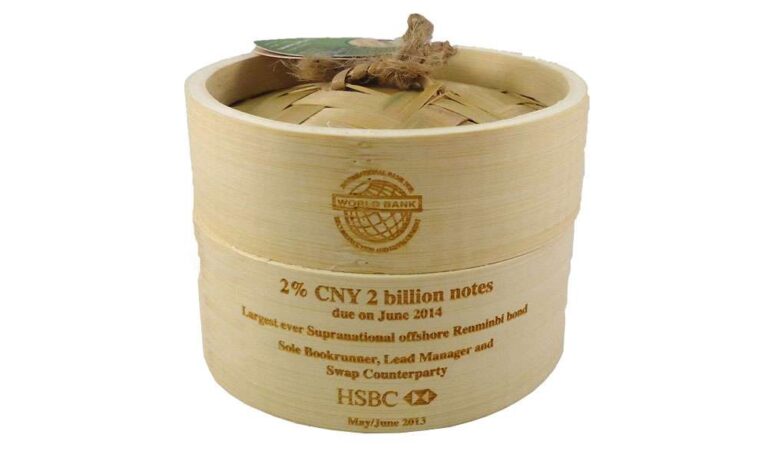 Using Actual Currency in Designs
Using actual currency in a deal toy also seems like a fairly obvious design option. There are several ways to make currency the centerpiece of a design.
Lucite embedments of coins are one option. You should be aware, though, that this option poses occasional practical and logistical problems. Assembling a sufficient number of coins in presentable condition can be time-consuming, and shipping those coins could be further complicated by customs restrictions. Depending on the currencies and countries involved, customs restrictions might also disrupt the shipment of the finished design incorporating a real coin.
A safer and less stressful route typically involves incorporating images of actual currency notes. Again, this might seem like a fairly obvious starting point. But here again, there are a number of qualitative factors involved.  There are a number of both straightforward and complex designs incorporating currency notes.
The design below isn't especially elaborate; on the other hand, the modified wedge shape is unusual enough to make the Paraguayan note its centerpiece in a compelling and eye-catching way.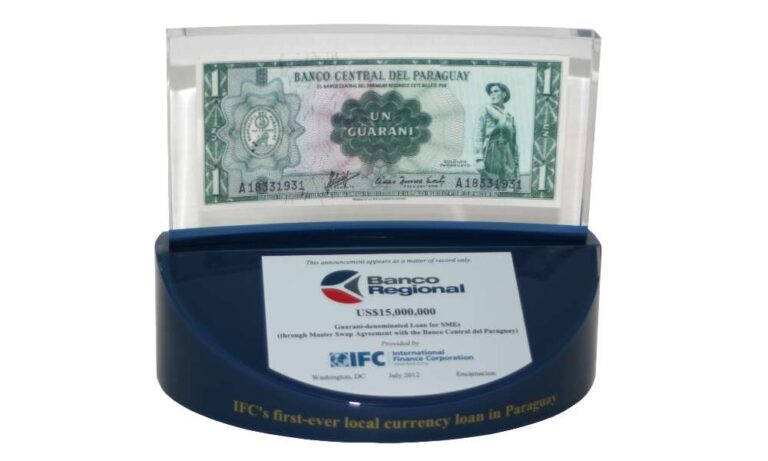 The design shown at the very top of this post also plays off a currency image but is captivating for an entirely different reason.
The Lucite piece celebrates euro-denominated bonds issued by American consumer goods company Kellogg's. The design creatively combines these two deal elements through the artwork of the company's popular brand mascot for its Keebler cookies line (Ernie the Elf), fanning a wad of euro notes.
Getting Your Deal Toy Project Started
At The Corporate Presence, we pride ourselves on our experience and expertise in handling a range of deal toy projects. Over the past 30+ years, our talented design staff has put a creative spin on a range of currency-related projects internationally.
If you're looking for more tombstone ideas along the line so national themes, be sure to check out our Cross-Border and International Deal Toys galleries.
And at any time, feel free to contact us to get started on your currency-based deal toy—or any tombstone or award project—and bring your vision to life.