Project "Barracuda"? Project "Buzz"? Browse Some Great Code Name-Inspired Deal Toys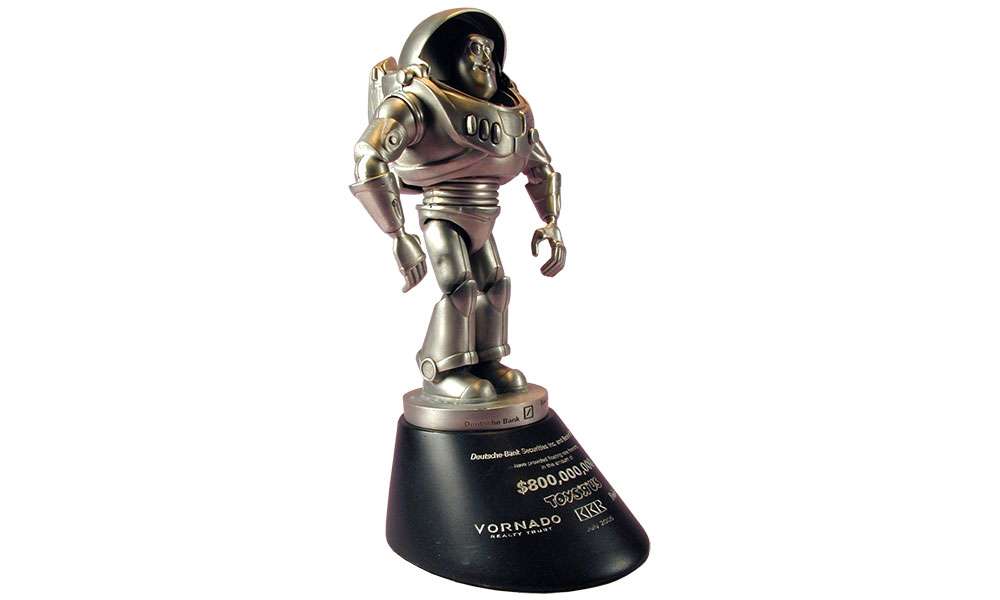 Code names offer a rich, and too often neglected, source of deal toy ideas.
Code names tend to provide ready-made design ideas because they also tend to be both colorful and evocative. The code names for high-profile deals have included, for instance, Bambi, Maui, Comet, Bald Eagle, Napoleon, Pineapple, and Quantum. At The Corporate Presence, we've created successful tombstone designs based on code names as seemingly random and far-flung as Big Bang, Goldfish, Eastwood, Beachfront, Matchbox, Macchiato, Mariner, Buzz (shown here above)—among many, many others.
We've written before about the design potential offered by project names. Code names have resulted in some of the most memorable and effective deal toy designs, for both bankers and, importantly, clients. And as we mentioned in "Creative Deal Toy Ideas: 7 Frequently Overlooked Sources of Inspiration", they're most often completely ignored.
It may help you appreciate that range of creative possibilities by seeing some actual examples. We've presented some below, along with some additional background on why code names evolved in the first place.
Code Names, Secrecy, and Deal Toys
The obvious rationale for a code name is the confidential nature of certain aspects of a transaction. Maintaining confidentiality can be of critical importance, especially with mergers and acquisitions. Leaks and rumors concerning parties, terms, and timing, can have serious repercussions in financial markets. Disclosure of sensitive information can also benefit rivals, and hurt a party's competitive position.
But code names can also inject a small element of fun in what can otherwise be a prolonged, and often grueling dealmaking process.  Former Merrill Lynch M&A banker Scott Rostan may have brought the proper perspective to the importance of coming up with a winning code name.
"A good deal code name", he once explained to The Wall Street Journal, "can make you a rock star".
"At least for a few minutes".
The Bond of Secrecy and Its Importance to Deal Toys
The glory of striking upon a memorable code name might be temporary. But the code name itself can live on in a deal toy design for literally decades.
Though many people tend to disregard deal toys as frivolous and even worthless, they have considerable meaning for deal participants. Even the most antic tombstone design can for them symbolize something extremely important and valuable.
What gives deal toys their value and cachet among recipients is their customized nature. They're not interchangeable. They're not merely mass-produced, lookalike designs wrenched off some factory shelf and used to celebrate whatever transaction is at hand.
Their designs tend to reflect something unique to the deal or the participants. That unique design element can spring from a number of sources, including a logo (or logos), a industry or sector, or the type of deal.
It might also spring from an experience or bond unique to the deal participants. Significantly, a code name, known only within a select circle of dealmakers, might provide the quintessential example of that kind of "insider" experience and knowledge.
It's therefore not surprising that, among both bankers and their clients, deal toy designs based on code names have such perceived value, meaning, and resonance.
And recipients tend to hold on to deal toys for years (and even decades—as we've learned through requests to replace lost or broken pieces over our 40+ years in business). That code name and the resulting deal toy could retain its meaning for a considerable time.
Small Deals Shouldn't be Excluded
Yes, the code name associated with megadeals tend to be the ones most widely recognized and celebrated. But that doesn't mean they're the only transactions for which a code name design might be appropriate.
The $23 billion dollar Berkshire Hathaway-Heinz deal, for instance, boasted not just one but multiple code names. (They included "Hawk", "Penguin", "Goose", and "Owl").
But again, the key to the perceived value (and enduring appeal) of deal toys isn't necessarily the monetary value of the underlying transactions they commemorate. What's crucial isn't the size of the deal, but it's importance to the participants.
Code name designs can work for smaller transactions—with appropriately smaller deal toy budgets. In the pieces below, relatively modest and inexpensive tweaks have been made to incorporate the project name. And in the case of the Exterran-MidCon deal below, "Project Mercury" appears via the simple addition of a watermark to the deal terms.
Project Name-Themed Designs
The code name also doesn't have to be part of a traditional merger or acquisition. Increasingly, clients request "deal toys" to commemorate achievements and milestones outside the investment banking arena. There are any number of business developments (including, for instance, joint ventures, strategic alliances, new product launches etc.) that might have taken on project or code names in the same concern for privacy. These too can be successfully memorialized and celebrated through some confidential identifying name.
Exploring Code Name-Inspired Deal Toys
At The Corporate Presence, we've found inspiration in a variety of aspects of deals, many of which weren't immediately apparent to either our banking clients or their clients. Whether the appropriate design idea for your deal proves to be a code name—or any number of other potential possibilities—our team is dedicated to providing you with the best possible tombstone.
You may not achieve rock stardom, but you will have a deal toy that provides a memorable and distinctive memento of your deal. Reach out to us today.