Acrylic Paperweights: Are They Really What You Want?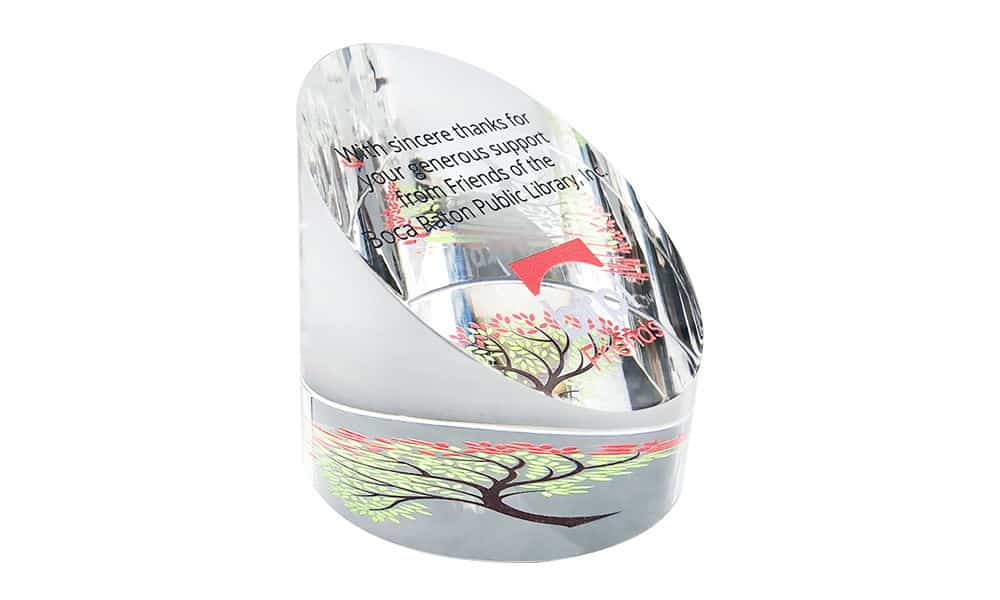 The term "acrylic paperweight" is a common one, but it's also something of a misnomer. In our 40 years of experience, most clients expressing interest in an acrylic paperweight, it often turns out, aren't really looking for something made of acrylic.
They also, typically, aren't looking for a paperweight. So just what are these customers looking for?
It's pretty clear why we get these calls and inquiries.
Overwhelmingly, these clients are looking for something you may now be interested in: a way to recognize achievement within their organization, or to solidify a relationship important to that organization, whether it's with a donor, business partner, or client.
But if these clients aren't interested in acrylic paperweights, what is it that they're really looking for?
Why (Most) People Don't Want Acrylic Paperweights
Let's start with "paperweights".
Again, we've found over many years that most people inquiring about "paperweights" aren't interested in what you probably have in mind when you hear that term. In other words, they're not really looking for that item traditionally used to hold down papers.  The whole concept of a paperweight, first of all, is becoming an outdated one.
In an increasingly digital age, most of us simply don't have the same overwhelming accumulation of paper that could pose such a problem in the past.
Beyond that, most people aren't really looking for any functionality here.
On closer inspection, what they tend to be saying when they specify "paperweight" is that they want something relatively small and compact; something that could easily and seamlessly fit on a desktop, where it will be regularly seen by the recipient.
And if it doesn't have functionality, it does become clear that the piece should at least be decorative. It should be the type of item that most people would want to have on their desktop and regularly in their field of vision.
What is "Acrylic"….Really?
People also tend to mention "acrylic" initially as their material of choice but, here again, that often isn't what they really want.
That's entirely understandable; "acrylic" is a term you see applied to everything from nail polish to paint, and it's not surprising that there tends to be some confusion.
Also, there's also confusion about what acrylic is as opposed to a related term, "Lucite".
Acrylic and Lucite are technically the same material: transparent plastic, or more specifically, thermoplastic.
The key difference between the two is that acrylic is a generic term; Lucite, as denoted by the capital "L" used here, is actually a brand name. Lucite is a kind of acrylic, therefore, but it is recognized as a higher-quality one, distinguished by its superior clarity and durability.
So, just to recap: all Lucite is acrylic, but not all acrylics are Lucite.
Why are Materials Relevant Here?
The choice of materials is obviously crucial to the perceived value of a gift, award, or recognition piece.
But it's not always straightforward.
When clients ask for a "paperweight", again, they're not literally looking for something to secure piles of paper on someone's desk; they're looking for something small enough, and decorative enough, to be placed on a desktop.
The key here is usually durability. Clients want something that will be able to withstand some handling, something that might withstand being knocked over, or be subject to some wear and tear.
This is what makes Lucite such as great choice; it's designed precisely to hold up to this kind of handling.
In terms of materials, many clients also opt for crystal for a desktop piece of this sort. Crystal obviously has high perceived value and can stand up to most handling; but it does break far more easily than Lucite and, also, can show that wear and tear—usually in the form of scratches—more easily. (Conversely, moving a crystal piece could conceivably cause damage to the desktop surface).
Don't Lose Sight of the Overriding Goal
The main goal of a gift or award—whether it's a "paperweight" or not—is to recognize achievement and/or express gratitude or appreciation.
That part is pretty obvious.
The more neglected part of the award or gift-giving equation involves branding—specifically your organization's branding.
One of the obvious benefits of having the gift or award in a place where the recipient will see it regularly is that it also means they'll be seeing your organization's name regularly as well.
But this can be double-edged. 
Imagine, for instance, recognizing an employee for their dedicated one or two or ten years of service with the organization—and discovering you did it with an acrylic piece that discolored and turned yellow after only about six months. 
That can happen if you choose inferior acrylic materials; and just think of the message that would send to your devoted employee (or longstanding donor or client etc.).
So both aesthetics and materials are crucial here, not only to assure the piece has its intended effect, but that your branding is furthered as well.
So, Do You Really Want Acrylic Paperweights?
The Corporate Presence would be happy to provide you with acrylic paperweights. 
But again, we have over 40 years of experience and expertise, and we recognize that a large part of our job is determining what you really want, and then bringing that experience and expertise to bear in designing the most effective and appropriate piece for you.
Contact us, we can also help you also determine which material would work best for you; in doing that we'll keep in mind not only how to heighten the design's perceived value with recipients, but, at the same time, how to preserve and further your brand as well.