Twitter Adds Another Deal Toy to its Timeline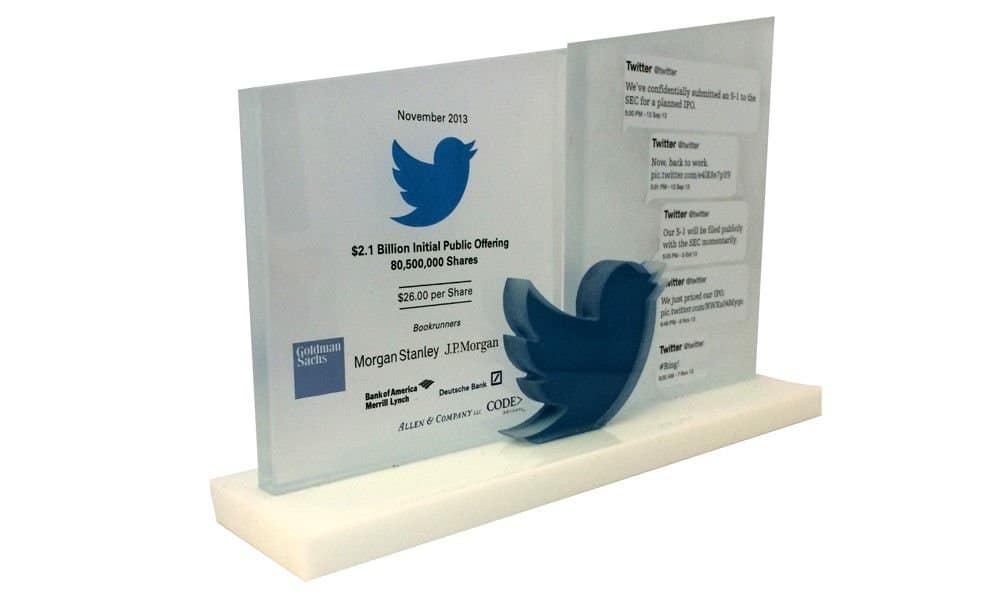 This week marks the 8th anniversary of the initial public offering of Twitter, one of a number of landmark IPO deal toys, including those for Google and Facebook, that the Corporate Presence has designed over the years.
2021 also marks the 10th anniversary of what was actually the first Twitter deal toy we produced: the Lucite design, also shown below, commemorating an early investment in the social media platform.
In honor of both anniversaries, we're republishing this post from 2014. Some of the metrics cited here may have changed (Twitter now has a global user base of about 396 million, and a market capitalization of approximately $43 billion), but what was written here 7 years ago, for the most part, still holds true.
Custom deal toy celebrates Twitter's November, 2013 IPO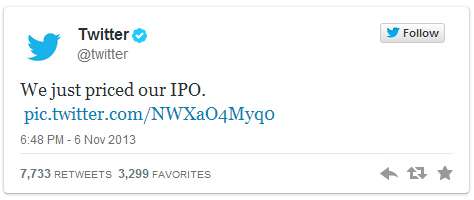 Just seven years separate these two tweets.
Since Jack Dorsey sent the inaugural tweet above on March 21, 2006, among other things, Twitter has, developed a global user base of over 230 million, achieved a market capitalization of approximately $35 billion, helped fuel political uprisings in several countries, given rise to both a Library of Congress archive and a sitcom, helped shape a presidential election—and, finally, produced two noteworthy deal toys.
At The Corporate Presence we're happy to have designed both of those deal toys—each marking a significant growth step, not only in Twitter's history, but in that of both global business and media.
The first deal toy (shown here) from 2011 commemorates the investment by JP Morgan Chase in a fund with a significant stake in Twitter.
Breaking into The All-Time IPO List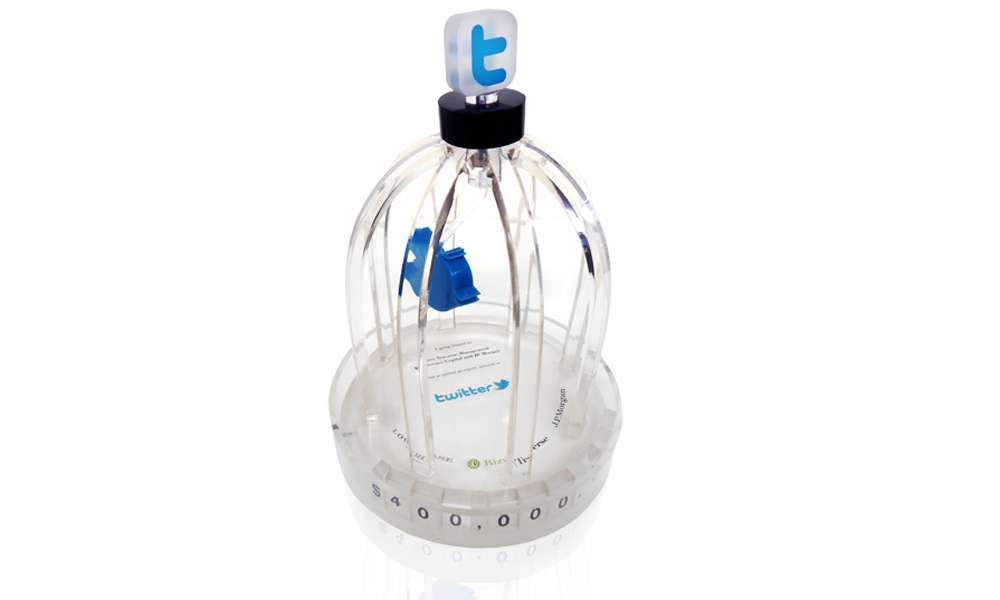 The more recent deal toy, also shown here, celebrates the initial public offering, the second largest internet IPO by an American company, surpassed only by that of Facebook (The Facebook IPO deal toy was also designed by The Corporate Presence, as was the Google IPO deal toy, marking the third-largest transaction on this list).
Underwriters for the issue included Goldman Sachs, in the lead role, as well as JP Morgan Chase, Bank of America Merrill Lynch, Deutsche Bank, Allen & Company, and CODE Advisors.
David Parry is the Director of Digital Strategy for the Corporate Presence and Prestige Custom Awards, which provides a variety of awards including ESPN's Espy Awards, and The National Football League Commissioner's Awards.
Related:
The Google IPO Deal Toy: Celebrating the 10-Year Anniversary
Featured Deal Toy: The Facebook IPO
The Lucite That Marks The "Most Profitable Deal in History"