Lucite Mementos At TCP: Our Capabilities And Some Ideas
There's a lot more to Lucite mementos than just rectangular slabs of sparkly acrylic. Not that those options aren't great, but Lucite has way more to offer. Pretty much the only limit is your imagination!
But what Lucite designs have proved successful in the past? How can you come up with a custom deal toy design that'll give your clients a Lucite memento they'll treasure? Read on to learn more about what The Corporate Presence can create with Lucite!
Classic Designs for Lucite Mementos
Let's start with the classics because they're called classics for a reason. They've been popular with our clients for years and continue to be.
Classic shapes include circles, cubes, cylinders, pyramids, and prisms. We can make a stylish Lucite memento in any standard 3D shape. These are often customized with creative printing and wording that makes them specific to the deal.
Standard Lucite Memento Ideas
Let's segue from standard shapes to popular ideas. Some industries don't lend themselves as easily to creative ideas. That's why your client's logo may often become the inspiration for a deal toy design.
This can work well and The Corporate Presence has created thousands  of creative deal toys over the years  based on logos. The problem can be that the logo may not be that inspirational.
That's when you can really benefit from our design experience and expertise. We can provide you with a range of other design possibilities.
We've been pushing boundaries and exceeding our customers' expectations for over 40 years.
Designs That Push the Envelope
Lucite is an extremely adaptable material. It is super-strong and can be molded into endless shapes. This means that there are many possibilities for Lucite mementos beyond the obvious.
Project Name Designs
The best creative designs are those that mean something to the client and you. Design elements hint at inside jokes, project names, or code names for projects. This may leave outsiders in the dark, but it's significant and meaningful to the intended audience.
Some examples include Lucite mementos created for a transaction with the code-name 'Project Rex'. The client chose a design that included a 3D T-Rex.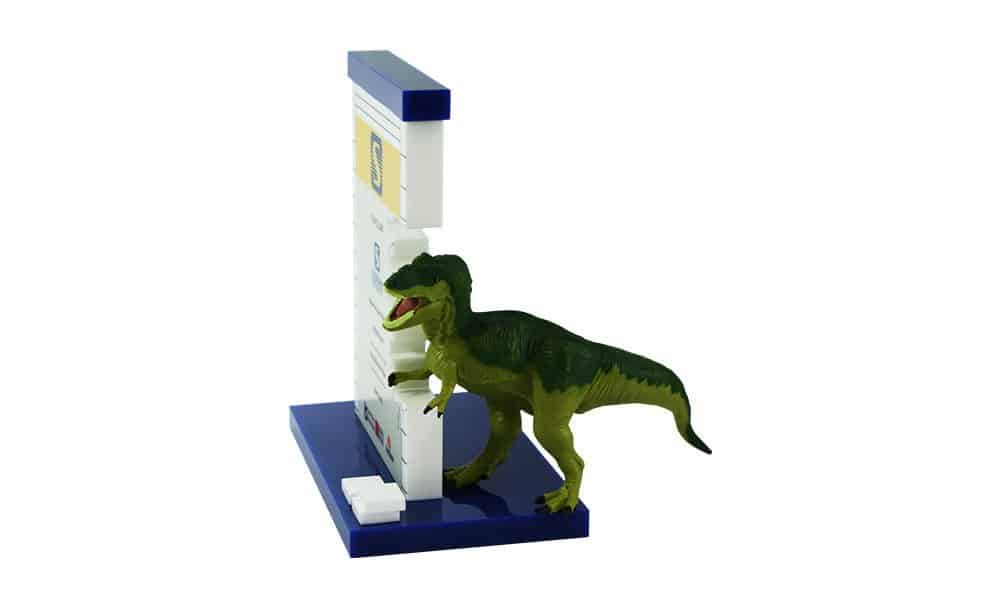 Another example was a custom deal toy that featured a book on a stand. This took inspiration from the code name: Project Hemingway. Some ideas are obvious; some are more subtle. A subtle idea included an ancient boat design for a project codenamed 'River'.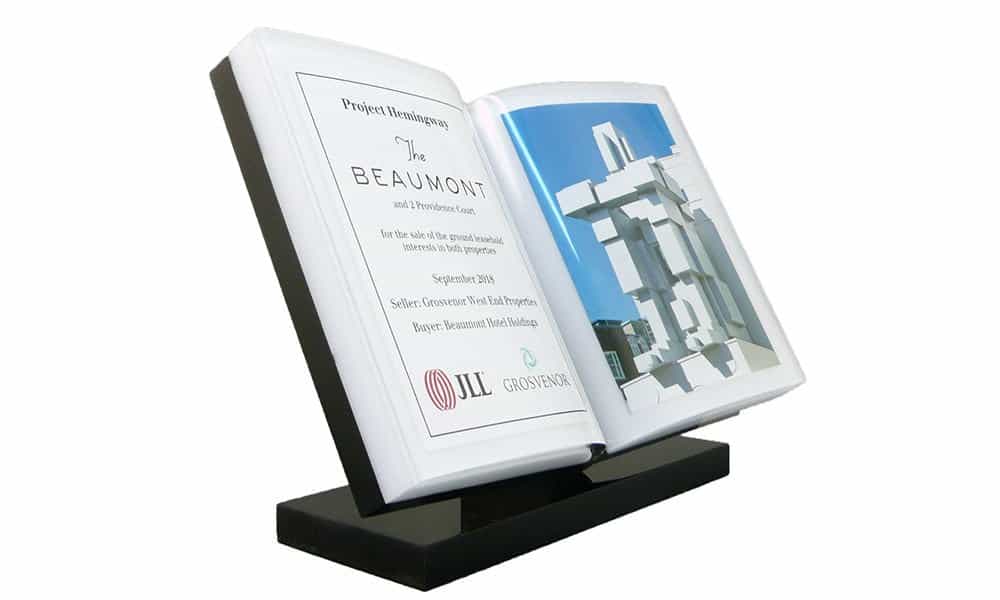 Shared Passions
During the course of the deal, you likely spent a lot of time together. Shared passions often emerge and form part of the glue that binds you.
These shared passions can become meaningful design elements in Lucite mementos. Whether it's a passion for rock climbing, motorcycles, or baseball, they make perfect toy design ideas.
The best thing about this kind of personalization is that these deal toys stay on display. They're the ones your client is happy to see day in day out and will pave the way for a strong relationship going forward.
Incorporate Local Designs
Sometimes a deal takes place across states or nations. This cooperation gives you a chance to draw inspiration from the origins of one side or the other.
Numerous Lucite mementos have been created in the shapes of states and countries over the years. Even this can be given an updated twist. Consider including the state motif as a background, a spinning element, or even for the base. This is a technique we used effectively at The Corporate Presence. Among numerous designs, we created a California-themed plinth for a teardrop-shaped tombstone design.
The state or country-shaped base can even be overlaid with a map of the country to seal the connection. Rather than shaping the entire Lucite block in the shape of a country, just one section can follow the shape of the territory involved. Creative printing or etching on the block can complete the effect. The E-CL piece did this, making creative use of the map of Chile.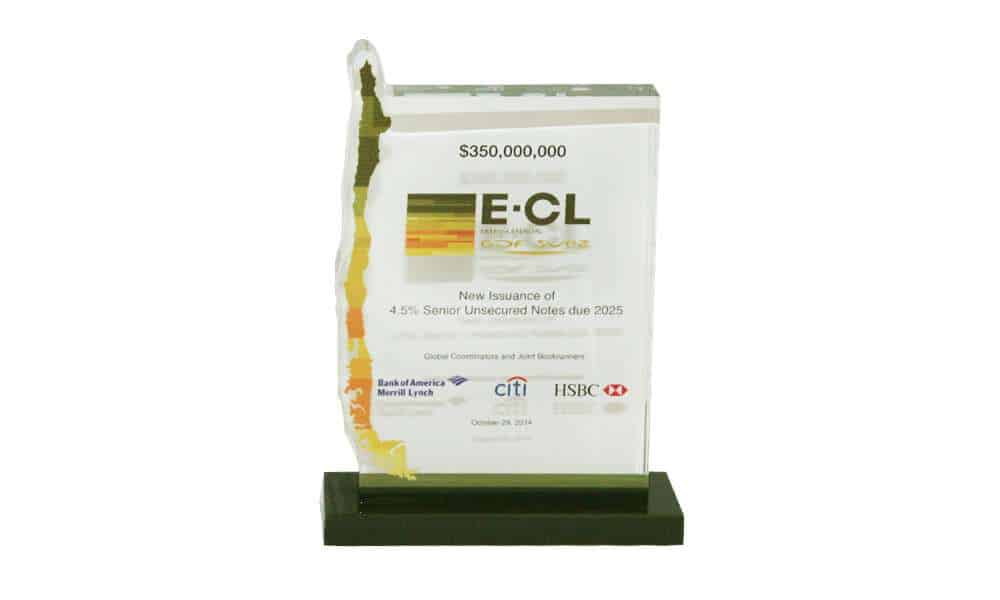 Deal Type Designs
Financial terminology is full of creative language that we can take inspiration from.
For example, a play on the term accordion tranche led to the creation of an accordion-shaped deal toy. Bolt-on acquisitions, cinderella bonds, Dutch auctions. They've all inspired design elements for a custom deal toy.
Moving parts or spinning features are cool additions to deal toys that make them more memorable. Planning a spin-off? We've created spinning Lucite mementos for just this occasion in the past.
Special Deal Toys for Special Deals
Sometimes you need Lucite mementos to commemorate a deal or event that really out of the ordinary—because of its size, its timing, its newsworthiness, or just its special meaning to you or your client.
It could be an unexpected merger, a strategic acquisition, even a record-breaking deal. Ordinary toy design ideas aren't going to cut it. You need to harness what's special about the deal and make it the focal point.
Lucite gives you the flexibility to bring these ideas to life. Get a feel for what's possible by checking out some of the landmark deal toys we've designed.
Extravagant Embedments
An excellent quality of Lucite is that you can embed just about anything in it – as long as it can stand the heat of the oven. This opens up a lot of opportunities for creativity.
Nothing's obviously more unique to a company than its products.  Many products–or some replica of the product–can be embedded to great effect. The goal is to find something that will touch them, something meaningful. Showcasing it in Lucite, with its outstanding transparency, is a great way to preserve it.
Choose The Corporate Presence for Your Lucite Mementos
Lucite mementos are so much more than a token or trinket. Get the design right and they can solidify business relationships. They are little monuments to momentous events. Get them right and they'll treasure them for a lifetime.
We have over 40 years experience of delivering outstanding Lucite mementos for our clients. The Corporate Presence has both the design and production capabilities to bring almost any design to life.
Contact us today to get the design process started on your mementos!