5 Important Company Milestones And How To Celebrate Them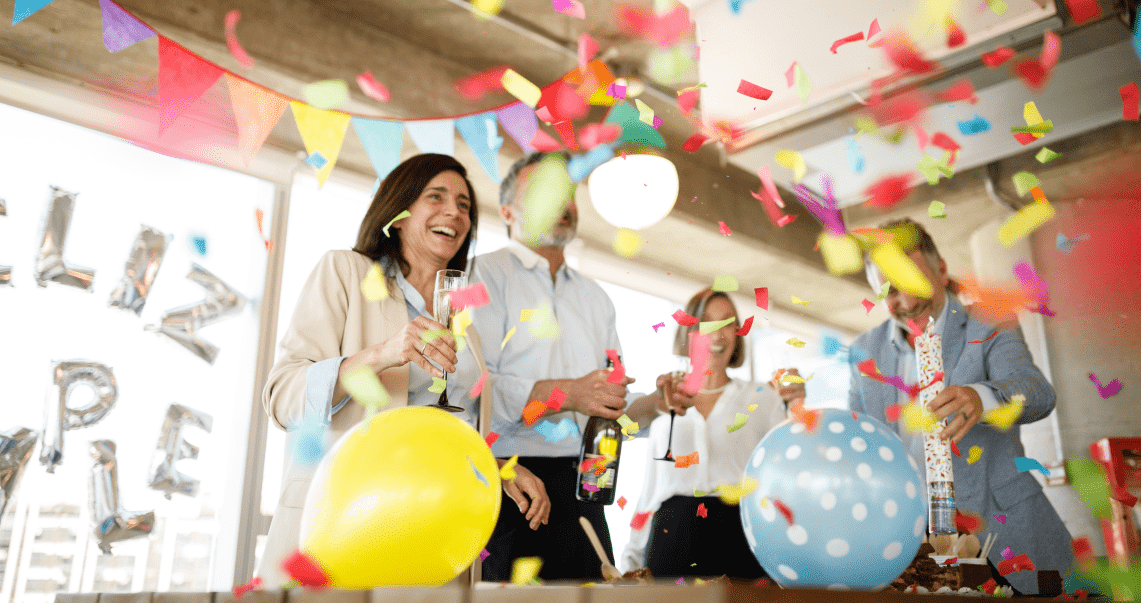 Celebrating company milestones is a great way to maintain morale at your organization. After all, who doesn't love taking a moment to acknowledge their success?
Interestingly, many people are unaware of some of the most important corporate milestones, and they also may not know how to celebrate them.
The crucial point here is also that these milestones don't just provide a chance to observe the immediate occasion.
They also provide an opportunity—one that's often overlooked— for any organization, whatever its size, to celebrate and reassert its goals, achievements, history, and its very identity and purpose.
We've created a short guide that details everything you need to know to make the most of these events. Let's get started.
1. Company Anniversary
This is one of the most obvious and commonly celebrated milestones for many organizations.
It also presents an ideal opportunity to do more than mark a "birthday"; it's a chance to acknowledge a shared history, and can also be a time to celebrate a collective mission (or embrace a new, or slightly different one).
But anniversaries aren't–and shouldn't– just be significant for large organizations, or ones with long and storied histories.
For many people, starting a business is a completely life-changing experience. So it's only natural that any and every anniversary for a startup is potentially a significant one.
And whatever their size, all organizations currently find themselves dealing with the pandemic-related challenges of an increasingly decentralized and remote workforce.
Celebrating both an organization's heritage, as well as its future, is a great way to keep employees connected—wherever they're working from.
2. Company Growth
Although company growth can be less objective than a company anniversary, but they're still worth celebrating.
It's also worth noting that growth benchmarks can take many forms. Significant benchmarks might include internal measures, for instance, like the number of employees or offices.
Or they make take the form of various external metrics, such as ones involving subscriber base or users.
As with company anniversaries, company growth celebrations can often substantial. While they offer an opportunity to recognize a collective achievement (see the discussion of team recognition below), they also provide a chance to single out key players that helped drive the overall growth of the business.
Attaining a particular benchmark or growth threshold might, for instance, be largely due to the work of a particular product development team, or line of business.
3. Work Anniversary
Celebrating the anniversaries of the people who work at your organization is also important. After all, making employees feel valued and recognized is one of the most efficient ways to maintain peak performance.
On average, work anniversaries are typically much smaller than other forms of celebration. This is particularly true for lower-level employees. Executive work anniversaries, however, tend to be more substantial due the impact of greater longevity and contribution.
Work anniversaries are often acknowledged through small gifts or privileges. For example, the company may pay to take the employee out to lunch that day in appreciation of another year of their continued performance.
This will, of course, depend on the size of the organization. For a company with thousands of employees, large celebrations are impractical. Still, going out of your way to reward workers can have notable benefits. This is true even if all you do is send out a congratulatory email.
Many organizations provide tiered custom awards for employee anniversaries. These pieces tend to have a more enduring impact and perceived value over time. They also provide these organizations with a unique branding opportunity.
4. Team Recognition
Many projects are only possible through the combined work of a team. In fact, the success of an organization overall often relies on its core teams to deliver results. Recognizing the success and dedication of a team, especially one that has been focused on a project for a considerable time, is not only beneficial to employees but also in the organization's best interest.
In scenarios where a team went above and beyond, executives may hand-deliver a thank you note. Or, they may have a special meeting with them in order to discuss their performance and the impact they had on the organization.
It also shouldn't be a surprise that team recognition awards are one of the core ways in which organizations acknowledge team performance. Again, noteworthy team performances can take a wide variety of forms. They could be found in the efforts of a successful litigation group, or of those who've developed a drug from its inception to FDA approval.  More traditionally, these  commemoratives can express gratitude for the outstanding performance of key individuals, like sales recognition awards, for example.
5. Revenue Goals
Regarding celebrations, revenue goals are often prioritized. This is especially true if the previous revenue goal was exceeded by a large amount.
How involved the celebration is will be dictated by overall performance. For example, let's assume your company needed to generate $50,000 in revenue during the previous quarter. If your employees managed to generate $100,000 in revenue, this calls for a large commemoration.
In cases like these, the company may even choose to publicize its milestone. This is achieved through various strategies, including:
Promoting posts on social media
Getting in touch with local news outlets
Creating a celebration video and then sharing
Emailing customers and clients
Under ideal conditions, this could greatly increase the notoriety of your brand. You may even attract investors who are looking to place money into promising organizations. Be sure to take this into consideration when moving forward. In many cases, celebrating financial achievements can benefit your business in the future.
Here again, custom awards provide both an opportunity to reward and recognize efforts and commemorate the organization's growth and vitality.
Acknowledging Company Milestones Is Essential
Keep the above information about company milestones in mind so that you take full advantage of these opportunities when the time comes. This will allow you to create a much more positive atmosphere within your organization.
Want to learn more about what we have to offer our customers? Feel free to get in touch with us today and see how we can help.