Bagel Wars, Broncos, & Ex-M&A Bankers: What's Become of These Deals 15 Years Later?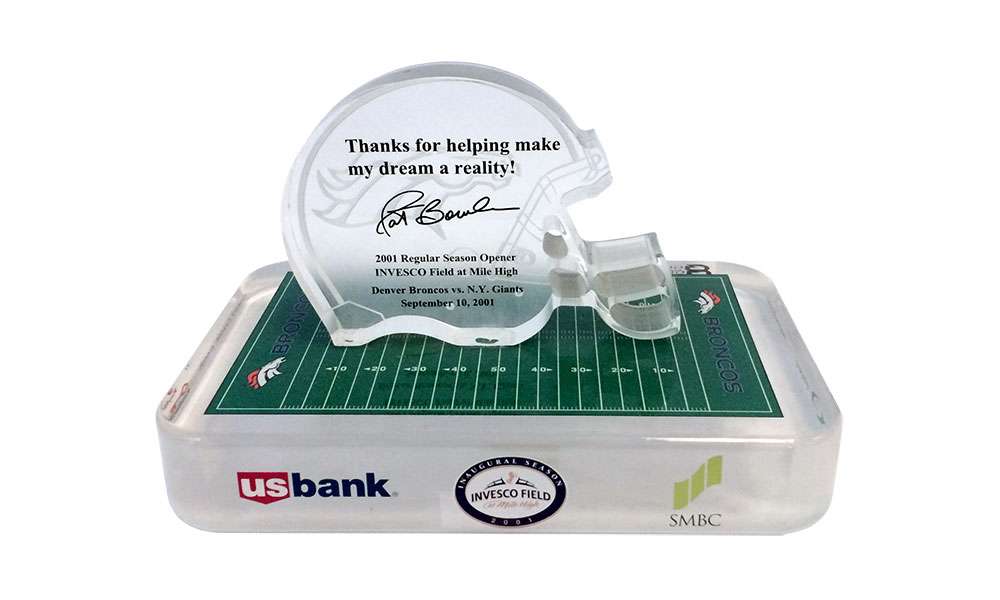 That place where the Super Bowl champion Denver Broncos play—what's it called again?
Good question.
For years the Denver Post refused to call it anything other than Mile High, even after that venue had been demolished and replaced, in 2001, by Invesco Field. Some local fans and holdouts, claiming a proprietary right based on the taxpayer's share of stadium costs, still continue to take their pick: "Mile High", or "Invesco Field", or, even, its actual, official name: "Sports Authority Field at Mile High".
This 2001 deal toy commemorates the stadium's inaugural game, and recognizes as well the team's banking partners in the project financing. A 2014 refinancing consolidated the remaining debt, leaving U.S. Bank the sole original participant.
And the name thing? That's still somewhat tricky. In 2011, Colorado-based Sports Authority purchased the 10 years remaining on Invesco's original naming rights deal. That would seemingly settle the matter until August 1, 2021—but not quite. Sports Authority unfortunately missed an interest payment in late January, precipitating concerns about the troubled retailer's ability to meet its annual $6 million obligation under the naming rights agreement.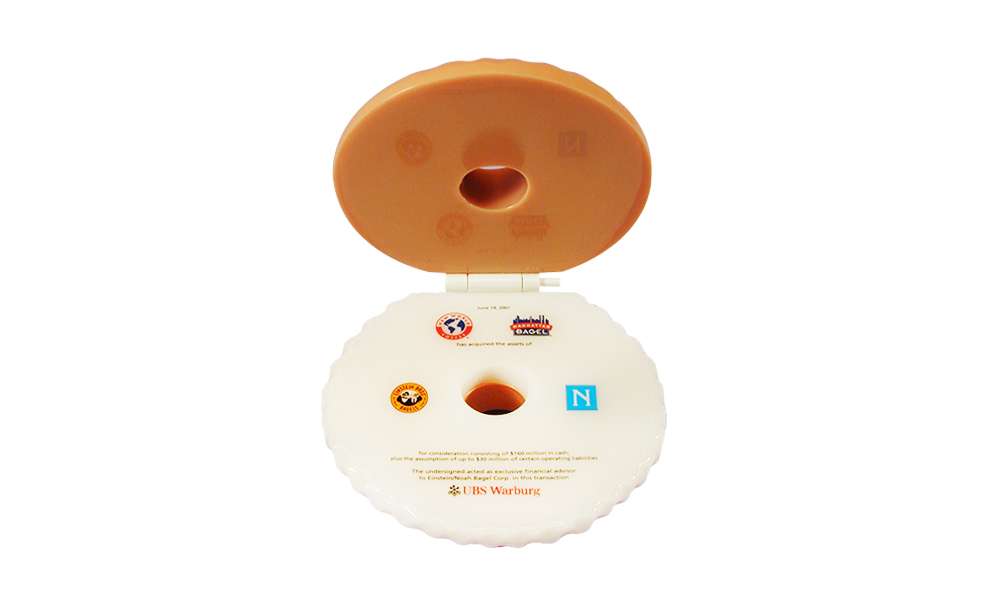 This 2001 Lucite is actually a battle relic; a vestige of that watershed 90's conflict known as the "Bagel Wars".
The Einstein Bros. Bagels chain, at the time the largest in the U.S., was purchased out of bankruptcy by New World Manhattan Bagel for $190 million. (New World Manhattan Bagel had originally been launched in 1993—by ex-Lehman M&A banker Ramin Kamfar—as New World Coffee). The stated ambition of the deal was building the "Starbucks" of the bagel industry.
So how did things turn out?
After years of strategic expansion and acquisition, The Einstein Noah Restaurant Group (the name reflecting the acquisition of Noah's New York Bagels) was eventually acquired in 2014 by German conglomerate JAB. On further inspection the potential synergies of the deal became apparent: JAB already controlled Peet's Coffee & Tea, Caribou Coffee, and D.E. Blenders.
The purchase price was estimated at $374 million.