Don't Even Think About Putting That in Lucite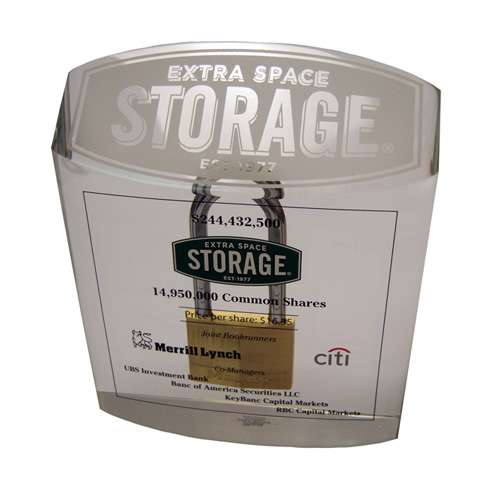 Don't Even Think about Putting That in Lucite
Not everything can be placed inside Lucite; and even some things that can, shouldn't.
By that I mean: placing certain items inside deal toys will not work simply as a result of the baking process involved in Lucite production. Some items and materials, on the other hand, will largely survive the high-temperature baking process, but will nevertheless look, well, awful.
Tortilla Chips are OK; Matchbox Cars, Not So Good
Some things we know won't work from the outset. These include virtually anything containing plastic or rubber components. So, as I've had to tell hundreds of bankers over the years, that Matchbox or Hot Wheels car you'd planned to use, for instance, will undoubtedly melt, and its paint job incinerate (but all is not lost: there are ways other than "embedding" them that we might work them into a deal toy design).
Here's the complication. We've placed an array of items in Lucite over the years—with entirely mixed and sometimes unpredictable results. We once discovered, for instance, that against all logic and reason, the tortilla chips which our client was determined to place inside Lucite were actually able to withstand the extreme pressure and heat. This measure of unpredictability underscores the need to conduct tests in advance to determine whether items will  or will not successfully embed. (Smart Lucite companies recognize this as being in their own self-interest and will gladly do this for free).
"Trust Me: There's Absolutely No Way My Client's Product is Going to Melt!"
All of which leads to my main point: there are things that work practically, but not aesthetically. Let me give you an example.
I once had an analyst scoff at both my description of the production process, as well as my insistence that we test-embed his client's aircraft engine part. He insisted that we clearly didn't understand the nature of his client's business: these were, by definition, extremely robust components geared for heat tolerances beyond anything our ovens could inflict. So, what's the problem? He reluctantly agreed, at long last, to test out one of his client's products.
The banker was correct: his client's product didn't melt; but it also came out of the oven looking unpresentable: singed, discolored, and beaten up. And why not? The part was intended to function invisibly inside an aircraft engine, where its appearance at any given time wasn't either a priority or concern. But as the focal point of a deal toy, the appearance of that part was now a concern.
Here's the obvious point: is a Lucite containing (in this case) a badly discolored hunk of metal the surest way to showcase your client's beloved product—and, more importantly, to further your bank's relationship with that client?
Trust But Verify
Yes, it may have turned out that only a portion of the client's engine parts would have reacted to the heat this way; but this is precisely the kind of thing you should know going into production. If, for instance, you can live (and most likely, pay for) a 10% reject rate, then that's fine, but, again, you should be made aware of any additional costs—and delays—at the outset. And certainly before you are placed in the position of repeatedly having to ask your client for engine parts, or whatever the product is.
In any case, should you be advised to test a product in this way, recognize that it may ultimately spare you both embarrassment and delay. Keep in mind as well that there will always be a number of alternative ways to feature your client's product in an eventual tombstone design.
David Parry is the Director of Digital Strategy at The Corporate Presence, where he has worked in sales and marketing for almost 20 years. A graduate of Brown University, he also directs Scholarly Awards, a subsidiary of The Corporate Presence specializing in custom Lucite awards for colleges and universities. Keep his advice in mind: not everything can be placed inside Lucite, and even some things that can, shouldn't