5 Great Ideas for Food and Beverage Tombstones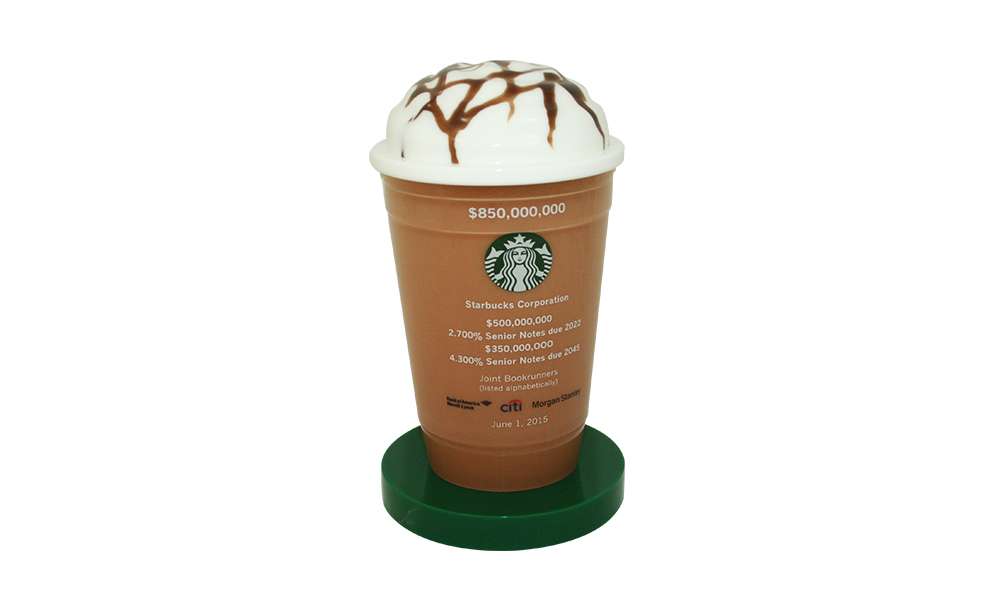 Food and beverage tombstones tend to have a little more cachet than those in other sectors.
What's so special about these financial transactions—and their tombstones?
Maybe it's the fact that they usually involve common, everyday items. Add to that the fact they often also involve highly-recognizable brands, sometimes ones that you might've seen, purchased, and even loved, for as long as you can remember.
It's probably no coincidence that when we identified "The Deal Toy Most Likely to be Stolen", it was a tombstone from the food and beverage space.
Our design for that transaction replicated a product; but it wasn't just any product.
It was a life-size Lucite replica of a Heinz ketchup bottle, one of the most durable and beloved bands in American culture. It's no wonder that the piece was so often borrowed "just for a second" to show off to another banker or visitor, only to then disappear—permanently.
Product replicas, similar to the design commemorating the Heinz deal, are just one source of inspiration for food and beverage deals. We cover that category below, along with four other ideas for memorable food and beverage tombstones.
Product Replica Tombstones
It's hard to think of anything more unique to a company than one of its products. Not surprisingly, as with the Heinz piece mentioned above, products can provide inspiration for some of the most effective tombstones, and corporate and custom awards as well.
Over the years, we've designed a number of highly eye-catching tombstones based on products.
But that's usually not the full extent of the fascination these designs tend to hold.
Whether these tombstones are displayed in an office shelf or bookcase, a reception area, or a conference room, people tend not only to gravitate to them, but also experience an almost compulsive need to handle and inspect them.
A great example is the piece shown above, replicating a Starbucks Frappuccino.
Just imagine how many people over the years have picked up and closely scrutinized and admired one of these Frappuccino-inspired tombstones. In the process, they've obviously seen the Starbucks logo, but they also had to notice the three logos of the banks involved in the transaction. It's really hard to match that in terms of positive brand exposure.
Product Embedment Tombstones
Product embedment tombstones can have the same kind of allure that product replica designs often have.
An example that immediately comes to mind involves one of the most recognizable and iconic brands—and beverage bottles—internationally, and of all time.
The piece shown below, celebrating a longstanding partnership between the soda brand and a university, involved the embedment of an actual Coca-Cola bottle.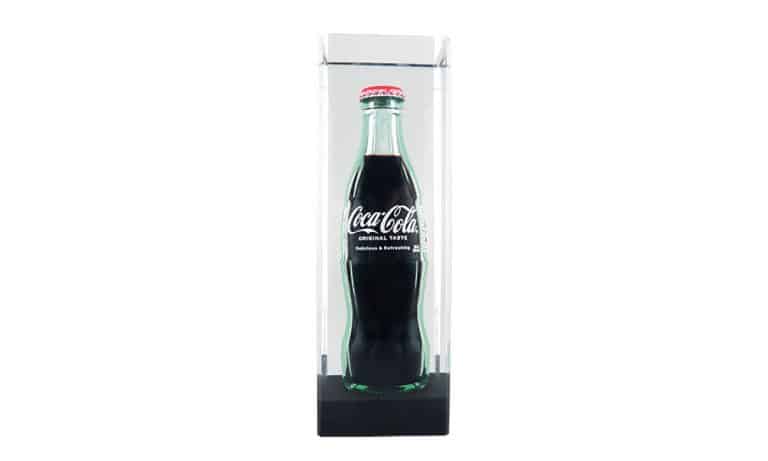 As powerful and seemingly straightforward as this design appears, there's one note of caution necessary here. Embedding objects in Lucite can be tricky; it truly requires an appreciation and mastery of both the science and art of embedment.
At The Corporate Presence we have over 40 years of experience embedding all kinds of objects in Lucite. We can provide the needed expertise to make a design like this work, both practically and aesthetically.
Brand Mascot-Inspired Food & Beverage Tombstones
Brand mascots offer another rich source of design ideas here. This crystal piece, commemorating Hershey's acquisition of Pirate Brands, plays off the distinctive Pirate Booty mascot.

Food & Beverage Tombstones Based on Packaging
Product packaging is yet another source of designs in the food and beverage sector. This seems pretty self-evident; but, on the other hand, there've been a range of inventive, highly creative tombstones designed over the years that have played off food or beverage packaging.
The imaginative design below, incorporating a hinge that reveals the deal details, is just one example. The design plays off the distinctive wrapper of Cadbury chocolates.
Logo-Themed Tombstone Designs
As with a number of other sectors, logo-based designs offer a ready source of ideas for food and beverage tombstones.
That said, logo-based designs tend to be even more effective and compelling in this industry. As mentioned above, so many of the logos involved in this space are not only recognizable, but can also be admired at a very deep, sometimes visceral level.
That means that the logo is likely to resonate not only with the immediate recipients of the tombstone (or custom award), but also among the general public.
That potentially magnifies the impact of displaying this kind of tombstone; it vastly increases the odds that anyone seeing the design will immediately relate to it. It will also attract and hold attention and, in turn, multiply the impact of favorable brand exposure.
We're Here to Deliver Unforgettable Food & Beverage Tombstones
The food and beverage industry really lends itself to a lot of highly creative and memorable tombstone designs. At The Corporate Presence, we're here to help you navigate all these creative choices, whether you're in the market for a tombstone to commemorate a landmark deal, or just looking to recognize a smaller transaction with some simpler, yet distinctive touches.
Whatever your needs, get the process started. Reach out to us today.