5 Inspiring Ideas for Creative M&A Tombstones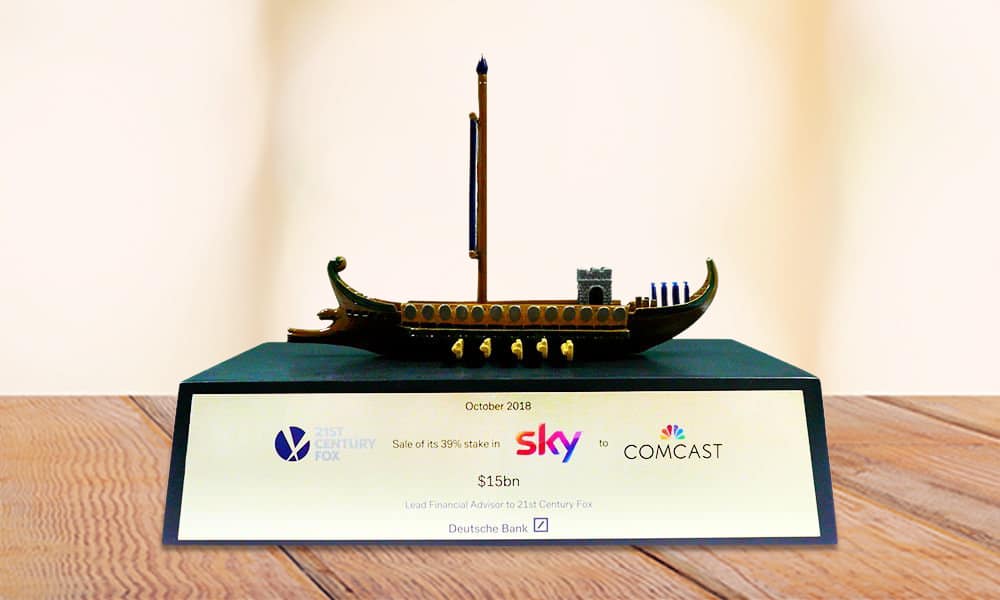 Given the choppiness in financial markets this year, M&A tombstones might seem like a pretty untimely subject.
M&A activity is obviously down year-to-date; but just as obviously, that's measured against what had been a record year for M&A deals in 2021.
At The Corporate Presence, we have over 40 years of experience, throughout a variety of cycles and markets, commemorating M&A deals. We've provided tombstones for landmark M&A deals such as Dell's $67 billion acquisition of EMC, Berkshire Hathaway's buyout of Heinz, and Blackstone's acquisition of Hilton Hotels.
And despite current market challenges, M&A deals are still being done.
So even with the market's recent fluctuations, we thought this would be a good opportunity and time to revisit some ideas for creative M&A tombstones.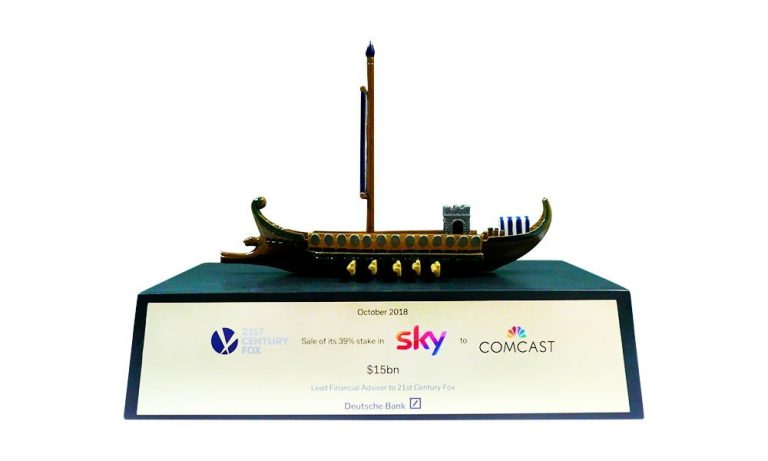 Create a Design Based on the Deal's Code Name
For a number of reasons, it's common for parties in an M&A transaction to use a code name for the deal prior to its announcement.
But even after the deal closes, and the code name loses its relevance, it can still have a lot of significance and resonance for the deal participants. Code names represent a common and, importantly, private bond between both sides in the deal.
That bond, and the shared experience it represents, also makes code names an ideal source for non-obvious, and distinctive, deal toy designs.
An example is shown below. The Roman galley design has no apparent connection to the underlying transaction: a landmark, $15 billion cross-border deal involving 21st Century Fox, Comcast, and Sky.
And it's precisely the fact that the design has no obvious relationship to the deal that gives it added cachet.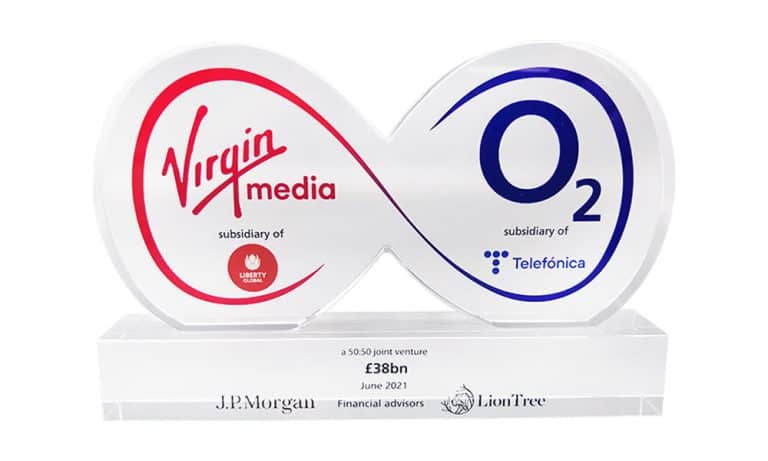 Showcase Multiple Logos in One Design
Logos are a common source of tombstone design ideas.
Mergers and acquisitions, by nature, involve (at least) two parties, and therefore at least two logos.
Because of the very real sensitivities involved in a merger or acquisition, and the emotions (and value) attached to the brands, you might consider a design that gives equal or near-equal weight to two or more logos.
A great example is the seamless, symmetrical design below. The crystal deal toy commemorates the merger between Virgin Media and O2.
Reference the Type of Deal You've Completed
One surprisingly overlooked source of tombstone designs involves not the subject matter of the deal, but the type of deal.
As you know, not all mergers and acquisitions are the same. A bolt-on acquisition, for instance, is very different from a tuck-in acquisition, and both differ from a spinoff.
But each of these transactions lends itself to distinct tombstone ideas.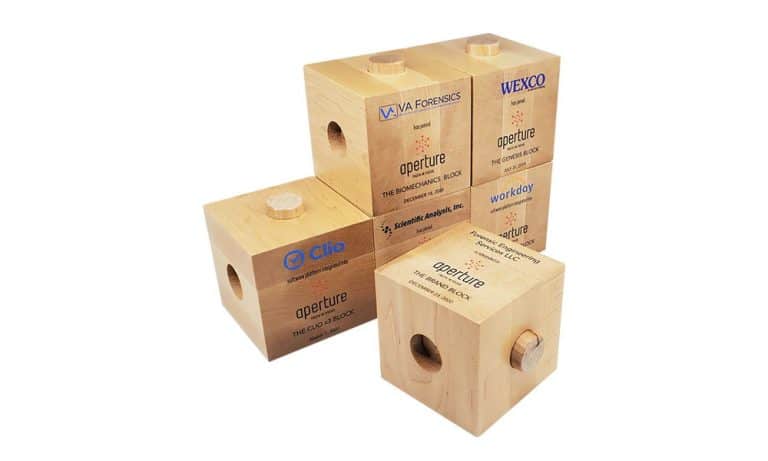 Show How Both Brands Fit Together with a Puzzle-Piece Design
Puzzle and modular pieces offer a variety of design possibilities for M&A deals.
These designs can provide a cost-efficient way to commemorate multiple transactions; they can also serve as a tangible representation of an acquisition strategy.
A puzzle design can also highlight the interconnectedness of the entities involved, and it can do it in a way that conveys the particular importance and footing of each entity.
Again, puzzle and modular designs can make sense from both a practical and aesthetic standpoint anytime you have completed (or expect to complete) a series of related transactions.
(So-called "graveyard" tombstones provide yet another option for related transactions; these combine multiple deals in a single piece.)
Create a Signature Tombstone Design
Many firms also overlook the option of creating a uniform, recurring design for all M&A tombstones.
The obvious advantage of this option is that it reduces the time and effort involved for all parties in the tombstone design process.
The only drawback of a standard design template—especially if the design is extremely simple and streamlined—is that individual deals can tend to lose their identity and distinctiveness over time.
But that doesn't mean that a standard deal toy template can't be durable. Especially in the context of M&A transactions, an effectively tailored template can memorably showcase both your transactions and your brand(s).
Ready to Start Your M&A Tombstone?
Since 1981, The Corporate Presence has been the global leader in deal tombstones. Over our 40+ years, we've designed M&A deals in almost every imaginable sector and involving parties throughout the world.
No matter the relevant industry, or nature of the merger or acquisition you're commemorating, our team can create the perfect design for your tombstone.
Ready to get started? Request a quote today.