The Story Behind the Deal Tombstone: A Megadeal Signed at a Food Stamps Office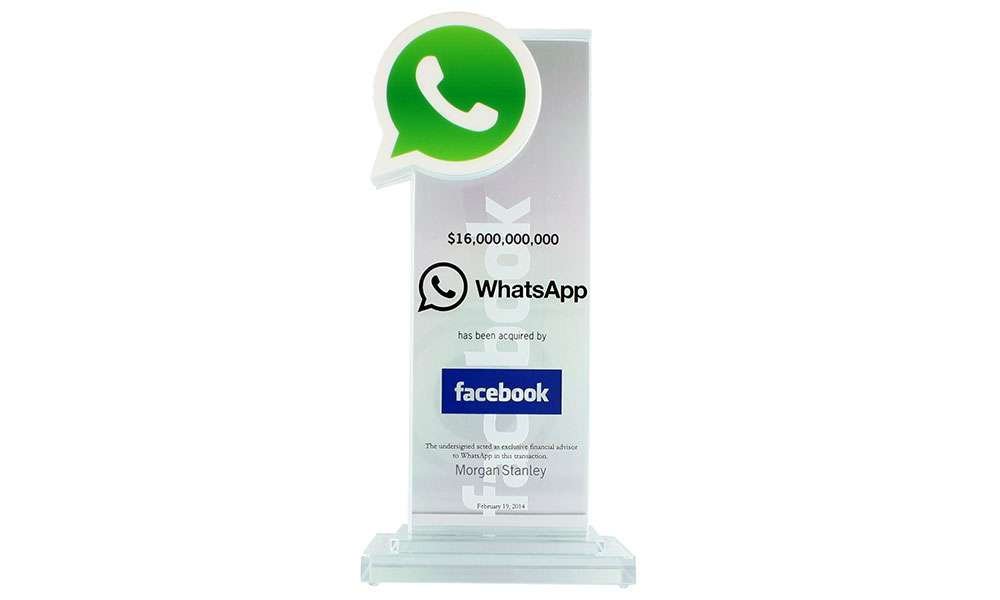 In our 42-year history, The Corporate Presence has designed the deal tombstone for a number of landmark transactions. We've designed and produced the tombstones, for instance, for the initial public offerings of Apple, KKR, Twitter, Facebook, Google, and Zillow.
We've also handled the tombstones for some historic mergers and acquisitions. These milestone M&A deals include Dell's $67 billion acquisition of EMC, 21st Century Fox's $71 billion sale to Disney, and the $27 billion joint acquisition of Heinz by 3G and Berkshire Hathaway.
Another transaction on that list would be Facebook's 2014 acquisition of WhatsApp.
There were a number of eye-catching aspects of the deal—beginning with some of the numbers. For Sequoia Capital, the only venture firm invested in WhatsApp, the deal represented a 60-fold return on its initial outlay. The sale price itself was also dwarfed by many multiples of what had previously been Facebook's largest acquisition (the $1 billion 2012 purchase of Instagram), or any other bid for the messaging app. (Google had reportedly also offered $1 billion for WhatsApp the previous year.)
But what might've been the most striking aspect of the transaction was the place where it was finalized.
This was a deal worth $19 billion.
And it was signed at a food stamps office.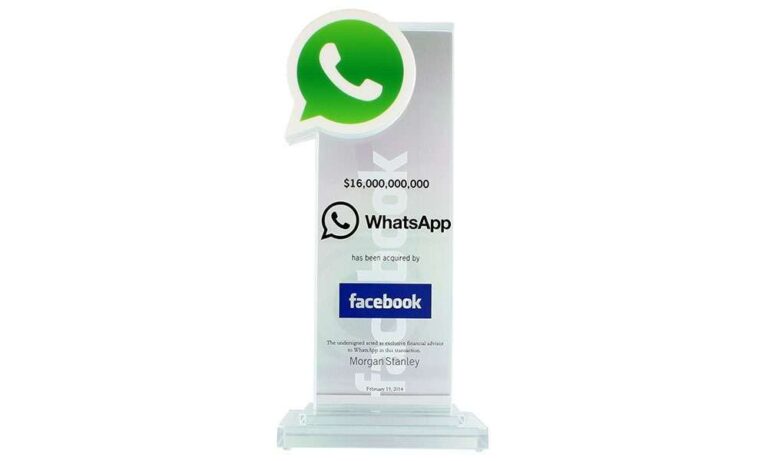 A Deal, and a Deal Tombstone, with Some Real Symbolism
It's hard to imagine what might've been more satisfying.
Selling your company for $19 billion to a firm that had once passed on hiring you…
Or signing the deal in the very same office where you'd once stood in line to receive food stamps.
WhatsApp CEO Jan Koum emerged from the deal with $6.8 billion. His co-founder, Brian Acton, came away with $3.5 billion.
The two had worked together at both Ernst & Young and Yahoo.
Their shared employment history also included experience with the company that acquired them. In 2007, both applied for positions at Facebook.
Both had been rejected.
And as for the place the deal was signed, it wasn't the Mountain View, California headquarters of WhatsApp.
Instead, it was a building just down the street. It had formerly housed the North County Social Services office where Koum had once regularly picked up food stamps.
And Another Thing About That Deal Signing…
There was another telling detail about the WhatsApp deal signing.
Koum had been born outside Kiev in 1976, in what was then the Soviet Union. He and his mother emigrated to California when he was 16, relying on government-subsidized housing (and food stamps) while his mother found work as a babysitter, and Koum attended high school and swept floors at a local grocery store.
A financially-strapped Koum had learned to program through manuals he'd purchase at bookstores. That is, purchased and then regularly returned.
Despite the imminent prospect of receiving billions, Koum insisted that the Facebook deal be completed in time for him to keep a scheduled flight to Barcelona.
He'd booked the flight using frequent flyer miles.
Your Deal Tombstone: What You Have in Common with Jan Koum
Those unfamiliar with deal tombstones tend to question both their value and purpose.
They sometimes ask, "But what exactly do these things do?"
The short answer is that they don't usually "do" much—if anything at all.
For instance, the crystal deal tombstone shown here that Jan Koum received to commemorate the acquisition of his company by Facebook didn't have a recess for paper clips.
It also didn't incorporate a solar clock, a pen holder, or a perpetual calendar.
That said, this particular deal tombstone still must've had tremendous perceived value to someone with his life history and experience.
The true value of a tombstone, as we've pointed out many times over the years, is not in the dollar amount of the underlying deal it commemorates. Regardless of how large or small that transaction, what gives a deal toy is meaning is the value of the deal to its participants.
Your deal may not run into the billions. You have also not be able to claim the kind of cinematic back story that Koum brought to his deals. But whatever the nature of your deal, whatever its value, and whatever back story you and the other parties actually do bring to it, we're ready to help you celebrate it in a truly meaningful way. The creative process for your deal tombstone started. Reach out to us today.