The "Classic" Deal Toy Connecting Harvard with "George of The Jungle"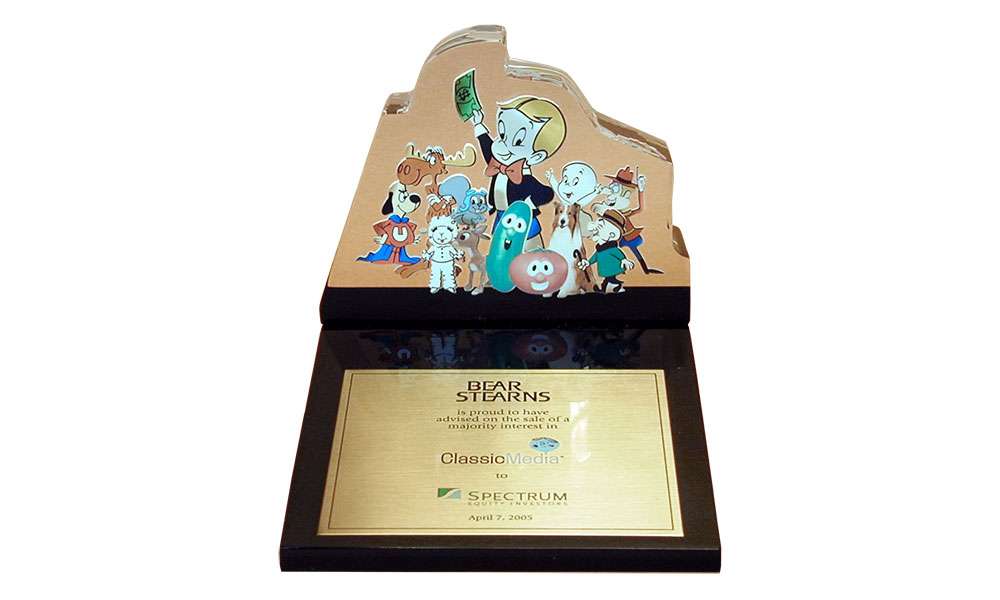 The classic deal toy above may conjure up some dim memories, and not just of Casper the Friendly Ghost. The Lucite tombstone is also a vestige of another spectral presence: the now-defunct investment banking powerhouse Bear Stearns.
But the centerpiece of the deal toy design—and the transaction it commemorates—is an assemblage of cartoon talent.
Beyond Casper, the piece also features three other enduring and beloved characters: Bullwinkle, Dudley Do-Right, and George of The Jungle— three guys who don't exactly come to mind as "Harvard Material".
But there is a Harvard connection here.
Though the Bullwinkle-Dudley-George brain trust might not have ventured anywhere near the banks of the Charles, their creator, Jay Ward, did.
He was a graduate of Harvard Business School.
The Deal Behind this Classic Deal Toy
The 2005 transaction recognized here involves another word you might not associate with this animated trio: "intellectual".
The deal centered on the sale of the intellectual property and character brands relating to a cavalcade of animated icons, including as well Underdog, Frosty the Snowman, and Richie Rich.
More specifically, the underlying transaction was a majority investment by two private equity firms, Spectrum Equity Investors and Pegasus Capital Partners, in Classic Media. Classic held an extensive library of more than 3,000 television and cartoon properties, including not only Ward's creations but also non-animated titles such as Lassie and The Lone Ranger.
DreamWorks ultimately acquired Classic in 2012 for $157.6 million. It has since rebranded as DreamWorks Classics. The full catalog then totaled over 6,100 animated and live-action shows, such as Casper, Rudolph, the Red-Nosed Reindeer, VeggieTales, Where's Waldo, and Voltron, as well as comic book archives and rights to the Golden Book series. (See our separate post for information on the DreamWorks IPO deal toy.)
Jay Ward's Post-MBA Career: Surviving a Real Estate Crash
So how did Jay Ward go from Harvard MBA to the creative mind behind a group of affable, animated dunces, one that the Washington Post once described as "savvy, dumb, well-meaning, brave, flawed"?
It begins with what might qualify as the history's shortest career in real estate.
On his very first day on the job in the California real estate business, Jay Ward was thrown against a wall.
By a truck.
The careening vehicle had lost its brakes and, improbably, ended up crashing through Ward's store front, pinning him against a wall and breaking both his legs.
All of which sounds like just an average morning for most of his cartoon creations.
But for Ward, it marked the beginning of career change.
As they say, one door closes, and another door—or in this case, the entire front façade of the building—opens up.
While recovering from his injuries, Ward came up with his first cartoon idea, Crusader Rabbit.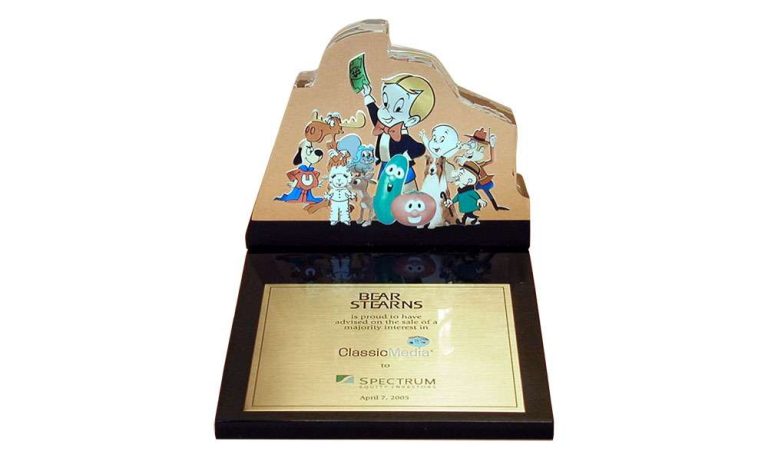 The Masterful Marketing of Moose and Squirrel
Make no mistake: Ward did show evidence of skills he either learned (or more likely) at least honed at HBS. His characters may have been plagued by ineptitude and lack of foresight, but Ward himself was a savvy promoter and marketer.
Dissatisfied with NBC's publicity for the early 60's premiere of Rocky and Bullwinkle—he recognized the network's half-hearted efforts in a series of mock, "Mediocrity Awards"—he staged events such as Bullwinkle's Block Party. Typically, the event drew both A-list Hollywood talent and publicity-deprived celebrity retreads.
Confronted with a view from his studio offices dominated by a "scantily-clad, mechanized showgirl" promoting a Las Vegas casino, Ward countered with a monument of his own. He commissioned a statue of Bullwinkle antically posed in a swimsuit, and holding aloft his sidekick squirrel. Like its counterpart across Sunset Boulevard, the 14-foot Bullwinkle rotated on a motorized pole.
But Ward's signature marketing feat was both elevating and re-positioning traditional cartoon fare.
His pun-heavy content, studded with both literary and historical allusions, simultaneously appealed to both kids and their parents. It inspired a genre that includes far more recent offerings such as SpongeBob SquarePants and Fairly OddParents.
One Classic Deal Toy, Two Legacies: Bear Steans and Jay Ward
The most recent evidence of the enduring legacy of Jay Ward, who died in 1989, was the 2020 re-installation in West Hollywood of the fully refurbished Rocky and Bullwinkle statue.
In 2015, there had also been an exhibit in his honor at the Paley Center for Media in Beverly Hills.
The legacy of Bear Stearns, on the other hand, is less immediately apparent. Three years after this deal, facing an imminent collapse that would signal a broader systemic crisis, Bear Stearns was acquired by J.P. Morgan Chase—after 85 years of operation.
Bear alums are still prominent. They range from Goldman Sachs CEO David Solomon to some unlikely figures such as actor and filmmaker Jon Favreau. But the abrupt disappearance over a single week of what had been the 5th largest U.S. investment bank is still hard to process.
Bear Stearns had been our client, not only on this tombstone project but on countless others. We have paid tribute to the firm, and a number of other former clients, also now-defunct, in several posts, including our Dinosaur Deal Toys series.