The Google IPO Deal Toy: Revisiting the 10-Year Anniversary, 7 Years Later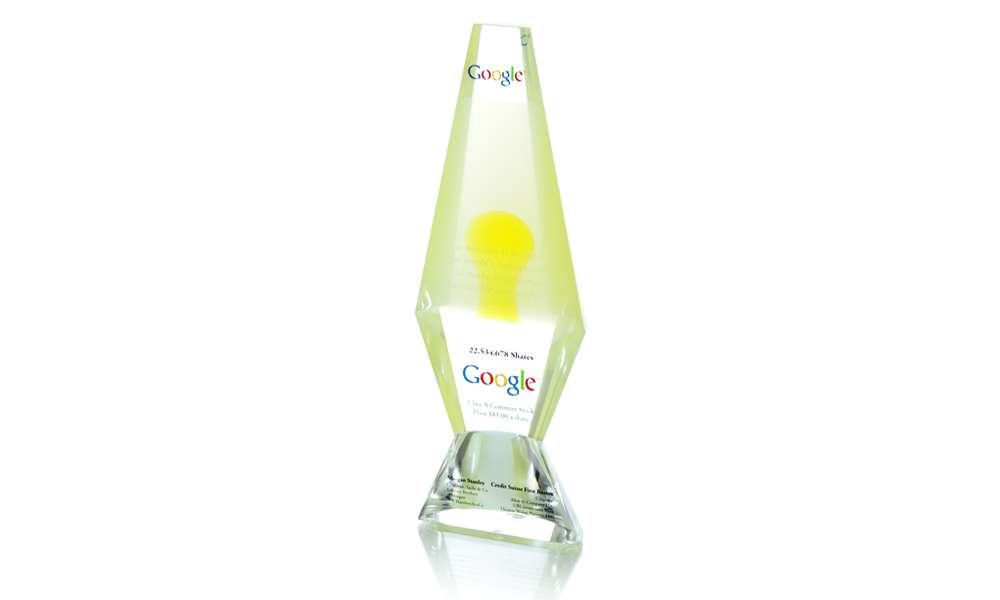 Google's signature lava lamps provide inspiration for a landmark tombstone
In honor of the 17th anniversary of Google's IPO–which falls next Thursday, August 19th—we are re-posting this tribute to the 10th anniversary of the offering, and of the deal toy commemorating it.
August hasn't traditionally been the most laid-back month for Google. Last week it announced the creation of a new holding company; and eleven years ago tomorrow—Wednesday, August 19th—-Google staged its landmark initial public offering. We wanted to mark the occasion by re-visiting the milestone anniversary post from last year.
"I wouldn't be buying Google stock, and I don't know anyone who would".
In the ten years today since Silicon Valley futurist Jerry Kaplan offered this assessment of the Google IPO's prospects, the lava lamp—the celebrated Googleplex trapping that inspired the IPO deal toy design—commemorated its 50th anniversary.
And in other news, Google stock during that same period increased more than 1000% on an adjusted basis; the company also achieved a market capitalization of approximately $180 billion…and its staff grew by a factor of 20—to more than 50,000 employees.
Even if we missed out on the IPO as an investment opportunity, those of us at The Corporate Presence can at least take comfort in being in on the deal toy.
Like massage chairs and pool tables, lava lamps are a key component of the Googleplex ambience, and have dotted the company's lobbies almost from its inception. Creating and manufacturing a deal toy that not only commemorated a landmark issue—but did so in a way that resonated with Google employees—remain especially satisfying for us, even ten years later.
The Google IPO also gave us valuable experience we later put to use in commemorating other landmark deals in the tech sector—including both the Deal Toy for Facebook's IPO as well as the Twitter IPO Deal Toy.
We want to congratulate both the lead underwriters of the issue, and especially Google and its employees.
Related:
Twitter Adds Another Deal Toy to its Timeline
Featured Deal Toy: The Facebook IPO
The Lucite That Marks The "Most Profitable Deal in History"