Groundbreaking Commemorative Gifts: 5 Great Ideas Beyond Shovels & Hardhats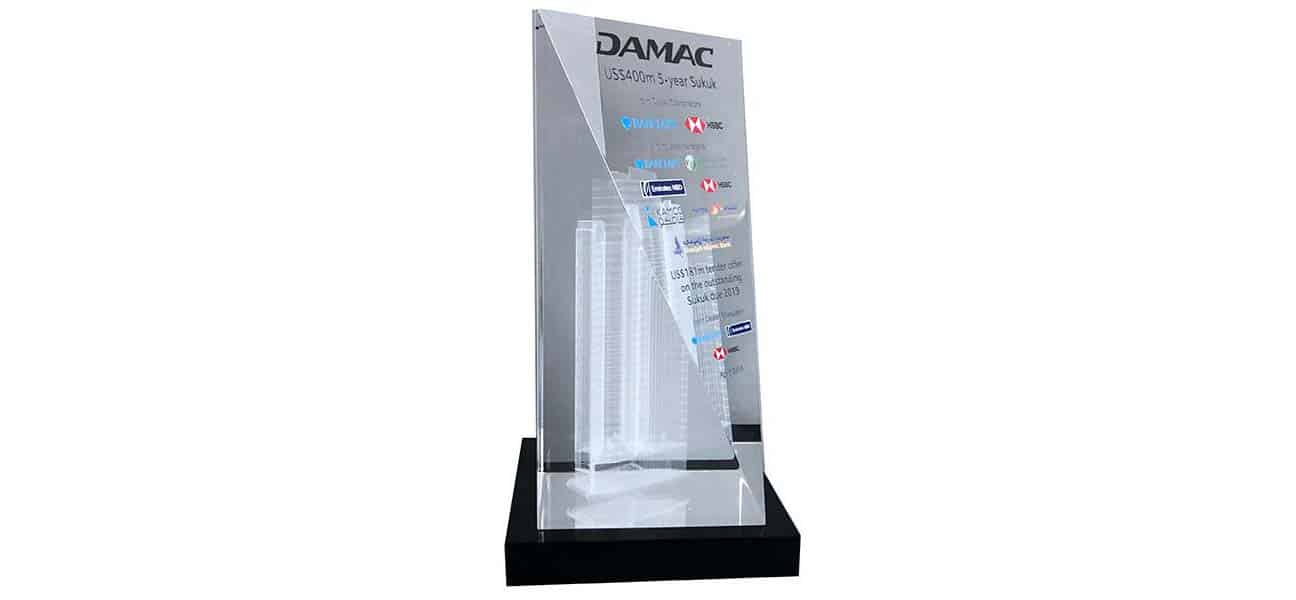 If you're looking for groundbreaking commemorative gifts, you shouldn't have much of a problem. 
After all, without much effort, you can find a variety of groundbreaking gift ideas, including miniature shovels, life-sized shovels, plastic shovels, chocolate shovels, shovel letter openers, shovel-themed business card holders, and shovel paperweights, to name just a few.
If you're looking for more imaginative alternatives, why not consider a hardhat-inspired gift? Among others, you can choose from miniature hard hats, gold-plated hard hats, silver hard hats, hard hat desk magnets, hardhat keychains, and many, many more.
The great thing about these hardhat and shovel gifts is that they represent a broad range in price points; some are only a couple of dollars; some, on the other hand, are offered for almost $200 per piece.
The not-so-great thing about these hard hat and shovel ideas is just how repetitious they've become and how uninspired they can seem. Just how many times exactly do you think the intended recipient of your groundbreaking gift has already received a shovel or hard hat item?
Will your shovel or hard hat gift have true perceived value in the weeks, months, maybe even minutes after the groundbreaking ceremony is over?
And, more importantly, what does a cliched, unimaginative gift say about your opinion of the efforts of the stakeholders being recognized: all the hard work, persistence, imagination, and expertise that led up to the groundbreaking ceremony in the first place?
Before you opt for some standard, off-the-shelf, uninspired groundbreaking gift, consider one of these five ideas. They may not work for all occasions, but they can offer a refreshing break from the predictable medley of groundbreaking gift items.
1. A Groundbreaking Commemorative Gift That Plays off the Project's Actual Purpose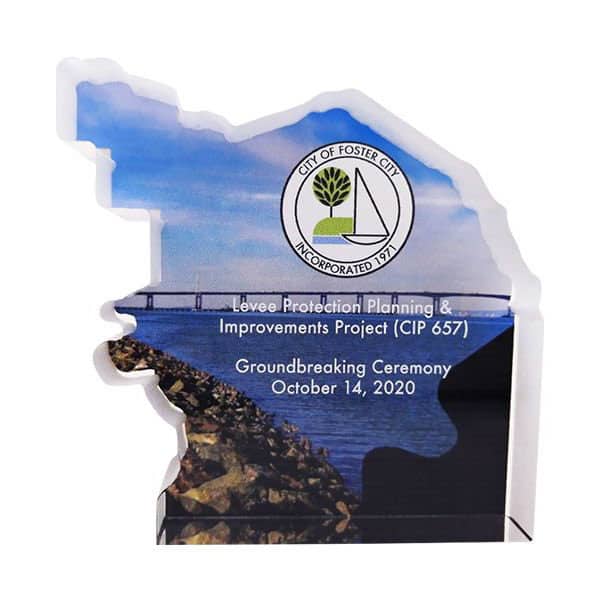 Perhaps the clearest departure from a generic hardhat or shovel piece is a commemorative that plays off the actual specifics of your actual project. A design that is fully customized for a single project tends to have considerably higher perceived value than one that could be handed out for virtually any and all groundbreaking. The custom crystal piece is shown here, marking the breaking of ground on a levee project in Foster City, California, cleverly combines two elements unique to this specific project.
An image depicts the project, and that depiction appears on a crystal piece in the shape of a map of Foster City. Again, this kind of distinctive design tends to resonate with stakeholders and recipients precisely because it's not one that will be lost in a group of lookalike mementos in an office or display case shelf.
2. Groundbreaking Commemorative Gifts Incorporating Building Replicas
Custom three-dimensional replicas of the planned building or facility are an obvious source of gifts, and may even be something you've either given out or received in the past.
But what may surprise you, on the other hand, is the variety and sophistication of some of these designs.
Over the years at The Corporate Presence, we have designed and produced a number of building replica commemoratives, including ones made of Lucite, crystal, pewter, resin, and even wood.
Here is an example of a replica, giving you an idea of the detail that can be reproduced.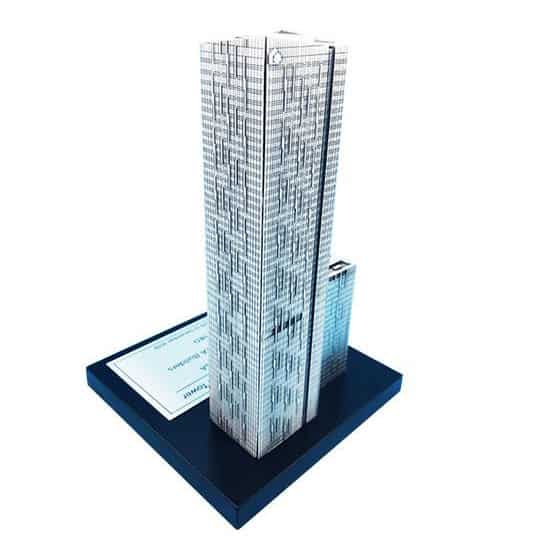 3. Crystal Commemoratives Incorporating 3-D Etching
One technique that can be used to dramatic effect in groundbreaking commemoratives involves internal, three-dimensional laser etching in crystal.
This technique is far more effectively shown rather than described, and the example below will provide you with a feel for the degree of detail that can be captured in a rendering of a building or facility design.
This technique, which again can be utilized only with crystal, offers a styling alternative to a more traditional three-dimensional rendering of a building.
4. Groundbreaking Mementos Incorporating Photos
You've undoubtedly seen a wall plaque commemorating a groundbreaking that incorporates an image or photo—usually one of the planned projects or of the groundbreaking ceremony itself.
Here again, this is also something your intended recipient probably already has on his or her wall; adding yet another plaque is not the surest way to keep your organization—or project—top of mind.
That's unfortunate because an image of the finished project or a photograph of the key stakeholders participating in a groundbreaking ceremony is quintessentially unique.
Crystal and Lucite provide a number of creative of furthering those unique elements. Both materials provide a range of design possibilities and price points: commemoratives can relatively simple and understated, or they can more elaborate and eye-catching. 
5. Lucite Embedments Incorporating Something Unique to The Site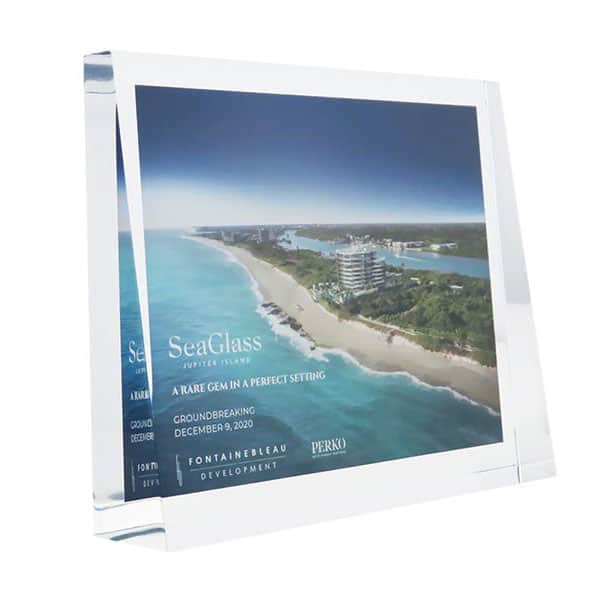 Over the years we have again helped celebrate many either initiated or completed projects with Lucite commemoratives incorporating some tangible item unique to the site.
These commemoratives commonly make use of soil or sand from the actual site, but they can also incorporate many other items, such as remnants of the facility or building being replaced or renovated.
Bring a New Dimension to Groundbreaking Commemorative Gifts
Yes, the standard, default gifts typically provided to commemorate groundbreakings have become that way for a reason: hardhats and shovels are two things that people tend to associate with groundbreakings.
But the more pressing issue for you should be whether they're really the only gifts you should consider—let alone whether they're the only ones your stakeholders want to receive.
The Corporate Presence can help you explore some alternatives that will be both distinctive and memorable.