Ringing the Bell: IPO Deal Toys and Deal Gifts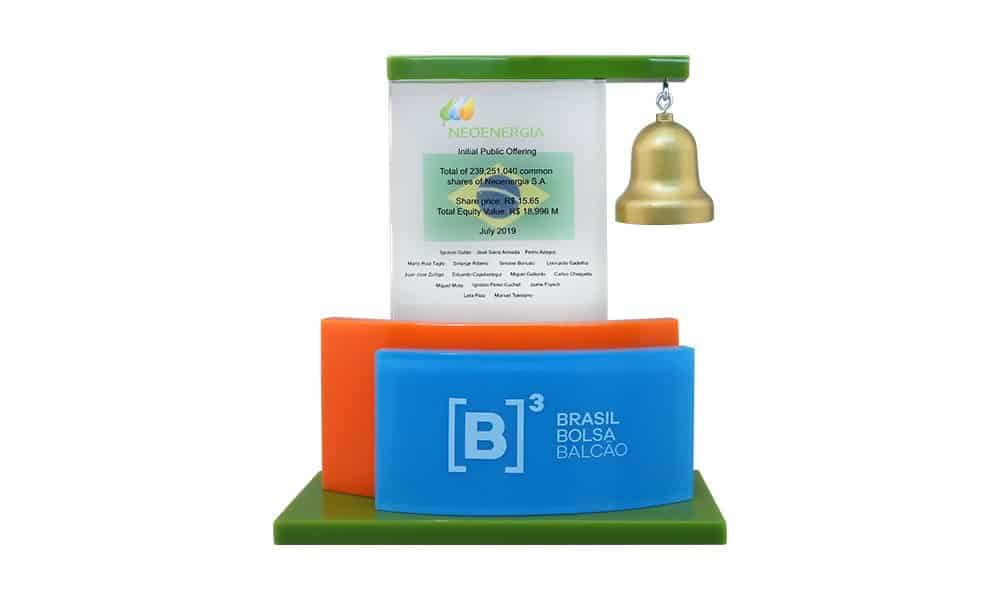 Along with mergers & acquisitions, initial public offerings provide some of the most common occasions for deal toys and deal gifts. And 2021 was an especially busy year for the IPO market. The number of annual public offerings exceeded the 1,000 mark for the first time in history.
Prominent stock offerings during 2021 included electric-vehicle provider Rivian, dating app Bumble, and brokerage Robinhood. The IPO pipeline for 2022 also appears encouraging, with over 900 private companies globally with reported valuations of 1$ billion or more.
Over the course of 40 years, we at The Corporate Presence have been privileged to have helped commemorate some of the highest-profile IPO's in history. Among the IPO deal toys we've designed were ones marking such landmark offerings as Google, Facebook, Twitter, KKR, and DreamWorks. Over the last year, we've certainly kept pace with the global demand for traditional IPO deal toys.
But what we've also been seeing increasingly is demand for a subcategory of IPO deal gifts—namely those tied to bell-ringing ceremonies and other exchange commemorations.
Over the years, these commemorations have involved an unlikely medley of personalities, ranging from CEOs to Snoop Dog, to cartoon characters, N.F.L. draft picks, pro golfers, and the cast of "Billions".
Exactly what kind of exchange events are companies celebrating, and how are they being commemorated?
We provide some insights and examples, along with some background history, below.
The Rise of The Exchange Bell Ringing Ceremony
Bell-ringing ceremonies have taken on a life of their own, and are now themselves worthy of being commemorated.
Which isn't as strange as it might initially appear.
After all, as the Wall Street Journal observed in 2021, the initial public offering is itself already, arguably, the ultimate corporate marketing event. 
It's only natural that bell-ringing ceremonies, conspicuously staged for cameras and news crews and often featuring celebrities, have taken their place as one of its essential components.
Coverage of bell-ringing events has also been heightened through social media, most prominently through the use of hashtags like #nysebell for photos and videos posted by both participants and spectators.
A Short History of Exchange Bell-Ringing Ceremonies
The twice-daily ringing of a bell, signifying the beginning and end of the trading day, began at the New York Stock Exchange. 
For much of the 19th century, a gavel was the preferred signaling device on the NYSE; that was changed to a brass bell in 1903.
The current bell, which dates back to the 1980s, is actually activated by a button, which must be pressed for a full 10 seconds at the exchange's opening and 15 seconds at its close. (Even this requires some finesse, as Sean Combs discovered when he bailed on the task prematurely in 2016, drawing boos from traders denied precious extra seconds to wrap up transactions).
The bell-ringing ceremony itself, once a relatively staid exercise performed in a space not open to the public, has been steadily opened up in a democratizing—and demystifying—trend on Wall Street that also is generally dated to the '80s.
Other Financial Exchange Ceremonies
Two relatively recent developments should be noted about exchange events like bell-ringing ceremonies.
First, though they tend to be associated with New York-based exchanges like the NYSE or Nasdaq, these ceremonies are, in fact, held globally.
The tradition of an opening and closing bell has been taken up over the years by a number of exchanges internationally, including those of Tokyo, Dubai, Toronto, Hong Kong, and London.
Also worth noting is that these ceremonies aren't just limited to initial public offerings.

Both of these developments are evident in the current pitch being made, for instance, by the Frankfurt exchange.
The Frankfurter Wertpapierörse beckons corporations to step "on the trading floor and in the media limelight"; and not just for initial public offerings: "Whether you are celebrating your IPO anniversary, a change of segment, the inclusion into a selection index, or any other exchange-related occasion, you can present your company by ringing the opening bell and welcome your guests to our event and meeting space."
This custom Lucite commemorative is an example of one not tied to a recent IPO. As you can see, this piece commemorates a ceremony celebrating the 20th anniversary of a new issue.
Bell-ringing ceremonies have, for some time, also been purely promotional, and unrelated to a listing.
The CEO of Dine Equity (now Dine Brands), which operates restaurant chains IHOP and Applebee's, once rang the NYSE opening bell to herald the beginning of Free Pancake Day.
Other non-financial bell-ringing occasions include the beginning of the N.F.L. season and any of a number of new product launches.
IPO Deal Toys and
Bell-Ringing
Gifts at The Corporate Presence
Whether you're looking for IPO deal toys, commemoratives for an exchange ceremony, or something that celebrates both, The Corporate Presence has both the experience and expertise to guide you to a memorable. Contact us and get the creative process started.