The $41 Billion Deal Stolen in The Night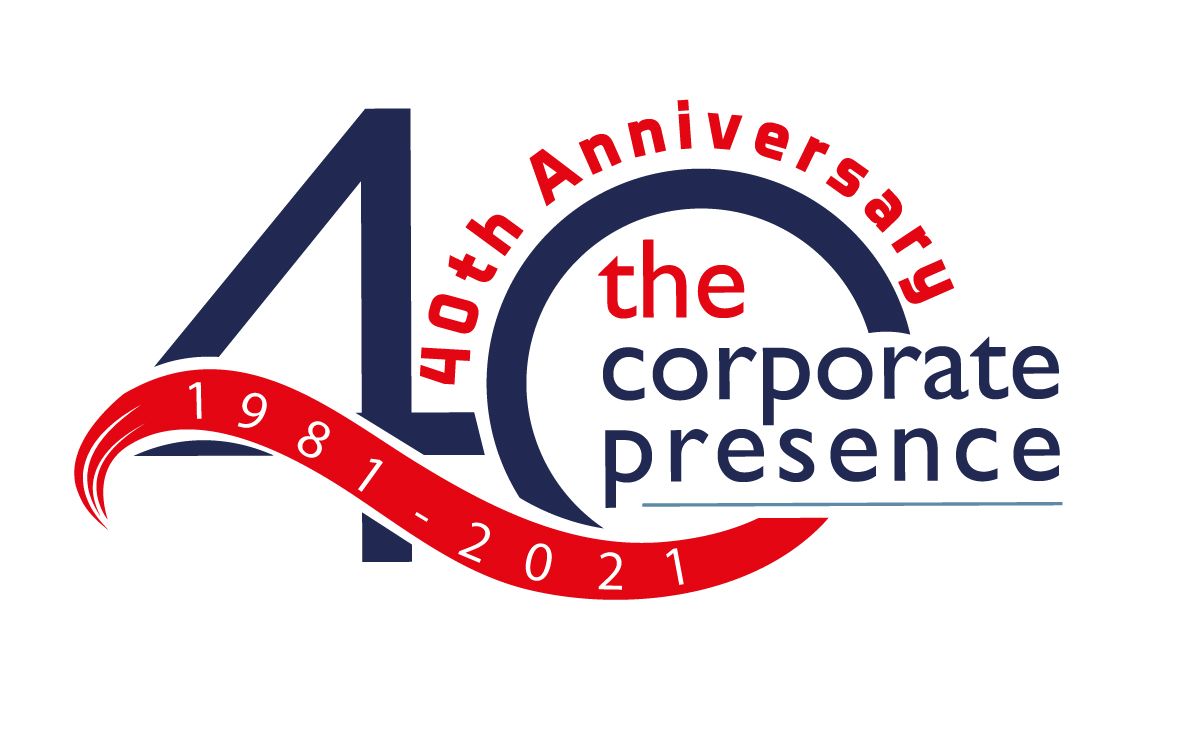 (This is another in a series of posts, leading up to The Corporate Presence's 40th anniversary, that will focus on noteworthy deals we have commemorated).
The deal toy shown below has all the virtues of a rectangle design: clean, linear, simple, and above all, straightforward.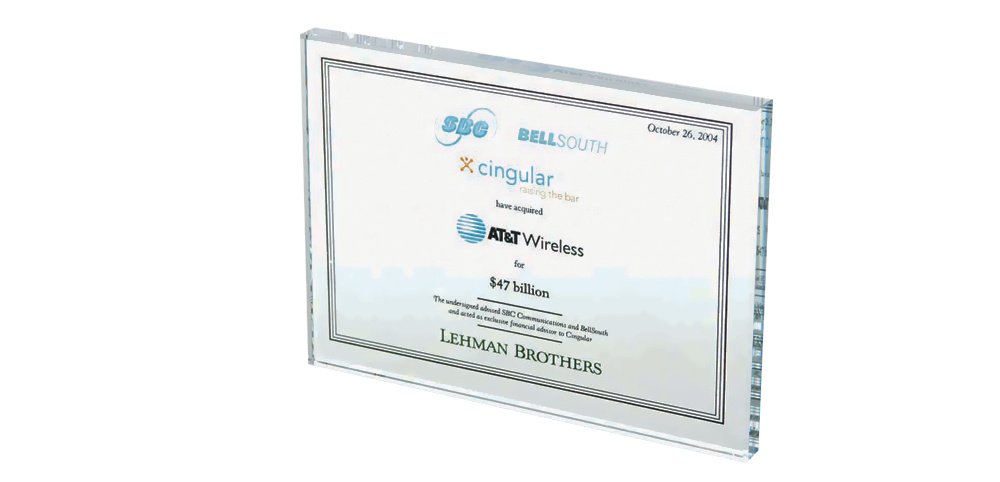 The deal it commemorates, on the other hand, was anything but.
And it's probably better captured by the other deal toy we designed shown here—which marks the same transaction.
"It's Dealnapping!" a New York Post headline had screamed.
And it all went down in February 2004, in a law office in midtown Manhattan, in the dead of night.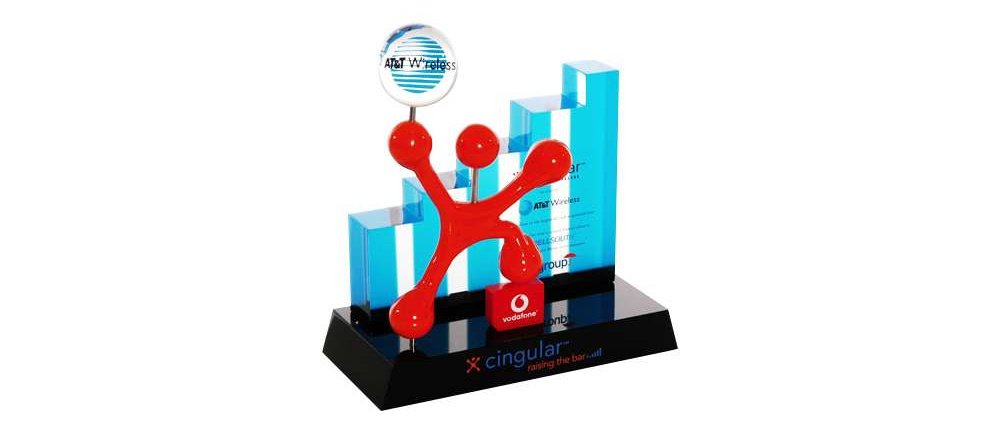 Cingular and AT&T Wireless..and Vodafone
"Nothing good", Ted Mosby famously observed, "happens after 2 a.m."
And in this case, true to form, it happened at around 2:30.
Except for the victims.
In London it was actually around 7:30— and the day was just beginning.
And if you were a banker or attorney on the Vodafone deal team, it was a fine morning indeed.
The offer by Britain's Vodafone for America's then third-largest mobile phone company had apparently been accepted.
Their work, and their deal, was done.
And if the London team needed further confirmation, and had somehow managed to see a hard-copy edition of USA Today that morning, that happy fact was reported there and also in a story by Andrew Ross Sorkin and Matt Richtel of the New York Times headed "Vodafone is Seen as Favored Buyer of AT&T Wireless".
The Done Deal That Wasn't
Only those news reports were mistaken.
A flanking maneuver had been sprung from an unlikely Manhattan redoubt: the three-Michelin-star restaurant Eleven Madison Park.
It was there that a group of defeated bankers had gathered for some consoling drinks.
And it was there that they were tracked down by the chairmen of Cingular's parent companies, SBC Communications, and BellSouth, still stewing over the loss, and determined to top the existing offer of $14.50 a share.
By 1:30 an emergency conference call was underway, and by 2:00 a.m. a group of twenty Cingular advisers was en route to the offices of law firm Wachtell Lipton with what proved to be the winning bid of $15.00 per share–resulting in what was then the largest cash acquisition in U.S. corporate history.
All while London slept.
But Who Really Won?
You didn't need a semiotics degree to decode the triumphant deal toy—with Vodafone and its bid being literally and figuratively squashed underfoot by Cingular's "Jack" character.
But who really got the upper hand?
In the immediate aftermath of its "defeat" Vodafone's stock actually went up.
And at least one commentator praised Vodafone for a "strategic masterpiece", in which it "ran up the bidding in a stroke of competitive gamesmanship unlike any in recent memory".
For some American consumers, at least, it was hard not to feel whipsawed by subsequent events.
Just three years later, AT&T Wireless customers who'd already had to adjust to Cingular, now had to cope with yet another rebranding.
The Cingular name would be disappearing, in favor of the name of the company that had just gained full ownership of BellSouth and with it the nation's largest wireless carrier: AT&T.
David Parry is the Director of Digital Strategy for the Corporate Presence and Prestige Custom Awards, which provides a variety of custom awards including ESPN's Espy Awards, and The National Football League Commissioner's Awards.