Another Landmark Acquisition Recalls "The Most Profitable Deal in History"—and The Lucite That Commemorates It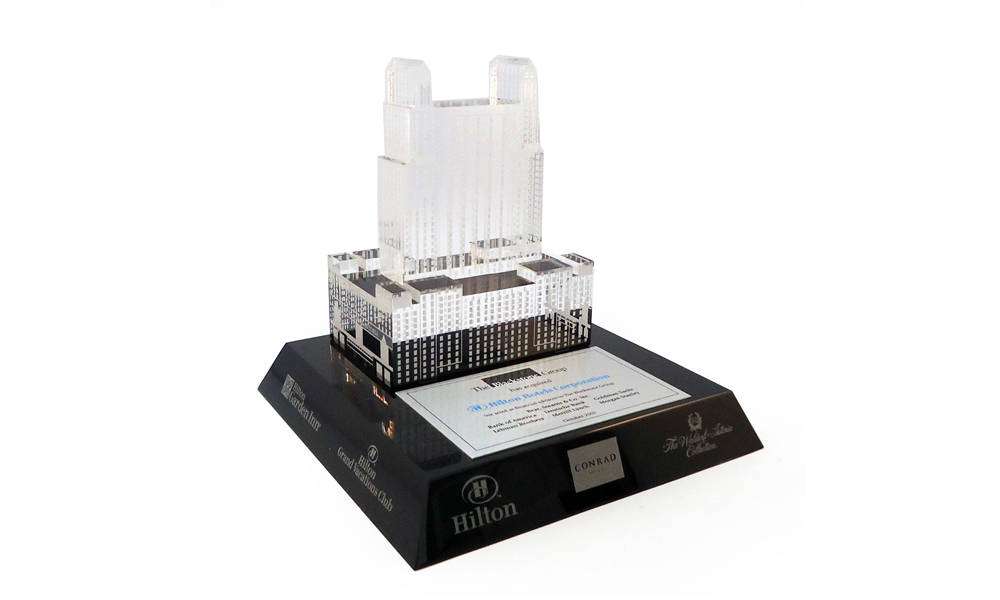 Blackstone's $23 billion purchase of GE's real estate assets recalled another, earlier landmark deal
Blackstone began April already the largest private sector landlord in the United States.
With its acquisition of GE's real estate portfolio last week—a $23 billion deal in which the firm partnered with Wells Fargo—the firm then conclusively demonstrated, in the words of Morningstar analyst Stephen Ellis, that its "scale in the real-estate space is unmatched".
The GE deal also inevitably prompted recaps of the real estate deals that have amassed Blackstone an estimated $100 billion in property and holdings. The Corporate Presence was fortunate enough to have been chosen to commemorate one of those deals, as we noted last September:
Blackstone's $26 billion buyout of Hilton Hotels in 2007, a deal just pronounced the most profitable in history by Bloomberg Businessweek, actually went south pretty early on.

"As the financial crisis hit and the economy tanked", the cover story notes, "it appeared that Blackstone and its partners had paid too much, used too much debt, and couldn't have picked a worse moment to close the deal".

Add to that the 2008 demise of deal participants Bear Stearns and Lehman Brothers, the resulting involvement of the New York Fed, as well as litigation involving a rival hotel chain, and the inevitable "Heartbreak Hotel", "Not So 'Suite' Deal" headlines must have seemed apt.

But Blackstone persisted in its strategy; and in doing so, managed to upend private-equity clichés by combining shrewd debt restructuring with sound operational management. In the aftermath of Hilton's December 2013 IPO, the firm is now looking at a paper profit on the deal of approximately $12 billion.
We were honored to have been chosen to commemorate this landmark deal—and would be equally honored to handle your next deal toy or award project. Give us a call today.
Related:
Twitter Adds Another Deal Toy to its Timeline
Featured Deal Toy: The Facebook IPO
The Google IPO Deal Toy: Celebrating the 10-Year Anniversary